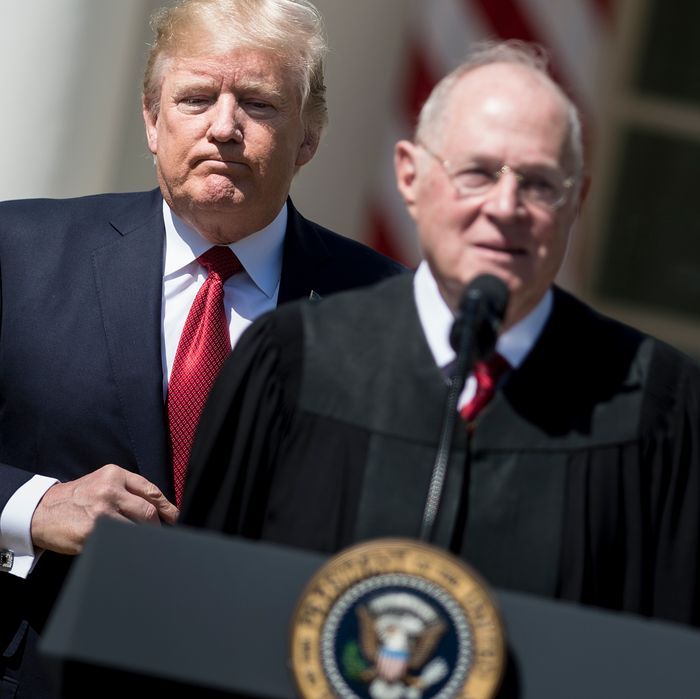 Trump fights the urge to talk about how he thinks Sean Hannity would make a great addition to the Court.
Photo: BRENDAN SMIALOWSKI/AFP/Getty Images
Days after Trump's inauguration, Lawfare's Benjamin Wittes coined a phrase to describe his administration: "malevolence tempered by incompetence." Wittes was referring to the travel ban, which the Supreme Court upheld this week, though it was a "watered down" version of the original order. There are plenty of other instances where even when Trump scored a win, it was only after much unnecessary drama that undercut his original goal, from his foiled efforts to repeal Obamacare to the family-separation crisis sparked by his "zero tolerance" immigration policy.
But when it comes to what may be his most lasting legacy — shifting the Supreme Court to the right — the Trump administration has managed to avoid its trademark chaos. It's quite possible that 81-year-old Justice Anthony Kennedy would have decided it's time to retire regardless of anything Trump said or did, but the New York Times reports that for months the White House has been quietly working to assuage any fears he might have about Trump picking his replacement.
Trump officials did not directly pressure Kennedy, and it's not uncommon for the White House create hospitable conditions for a court opening. In this case, the Trump administration cleverly used the vacancy created by Justice Antonin Scalia's death to pave the way for a second opening: Trump nominated Neil Gorsuch, Kennedy's former law clerk, and then flattered the older justice as he was sworn in. Per the Times:
And when Justice Gorsuch took the judicial oath in April 2017 at a Rose Garden ceremony, Justice Kennedy administered it — after Mr. Trump first praised the older justice as "a great man of outstanding accomplishment."




"Throughout his nearly 30 years on the Supreme Court," Mr. Trump said, "Justice Kennedy has been praised by all for his dedicated and dignified service."




That was an overstatement. Justice Kennedy is reviled by many of Mr. Trump's supporters for voting to uphold access to abortion, limit the death penalty and expand gay rights. Conservatives have called for his impeachment. James C. Dobson, the founder of Focus on the Family, once called Justice Kennedy "the most dangerous man in America."
The White House repeated this tactic after Gorsuch was nominated, informing the media that the runners up were appellate judges Brett Kavanaugh and Raymond Kethledge, both of whom clerked for Kennedy as well. In the meantime, Trump nominated three other former Kennedy clerks to federal appeals courts. And intermediaries told Kennedy that the architect of Trump's successful push to appoint more conservative judges nationwide, White House Counsel Don McGahn, probably won't be around after the midterms, which could complicate the next Supreme Court confirmation process.
Trump also used his family to win over Kennedy. For once Don Jr. was a political asset; Kennedy's son Justin, Deutsche Bank's global head of real-estate capital markets, knows the younger Trump from his work as a real-estate developer. "Say hello to your boy," President Trump remarked to Kennedy after delivering his first address to Congress in February 2017. "Special guy."
A less surprising Trump continued the charm offensive:
About a week before the presidential address, Ivanka Trump had paid a visit to the Supreme Court as a guest of Justice Kennedy. The two had met at a lunch after the inauguration, and Ms. Trump brought along her daughter, Arabella Kushner. Occupying seats reserved for special guests, they saw the justices announce several decisions and hear an oral argument.




Ms. Trump tweeted about the visit and posted a photo. "Arabella & me at the Supreme Court today," she wrote. "I'm grateful for the opportunity to teach her about the judicial system in our country firsthand."
There's every indication that the nomination of Kennedy's successor will proceed with precision uncharacteristic of Trump's White House. The Wall Street Journal reports that they're repeating the process that secured Gorsuch's confirmation, enlisting the help of Federalist Society executive vice-president Leonard Leo. Trump has confirmed that he's sticking to a list of potential nominees approved by the conservative lawyers' network, though his son veered a bit from the script:
According to the Journal the list has already been whittled down to a half-dozen names, and people involved in the White House process expect an announcement before Trump departs for the NATO summit that begins in Brussels on July 11. The plan is for the Senate to hold confirmation hearings in mid-August, with a vote before the November elections.
Trump started his push to win over senators on Thursday night, meeting separately with Democrats and Republicans. Along with Senate Judiciary Committee Chairman Chuck Grassley, Trump talked with pro-choice Republican Senators Lisa Murkowski and Susan Collins, who could potentially tank a nominee they see as too hostile to abortion rights. He also met with the three Democratic senators who broke ranks to support Gorsuch, Joe Donnelly, Heidi Heitkamp, and Joe Manchin.
Even if Senate Democrats hold together, there really isn't much that they can do to stop Trump. Much to their horror, the president is on track to score a massive Supreme Court victory without any humiliating stumbles or narrow escapes — though one Republican close to the administration might have tempted fate by telling Politico, "Even Trump can't screw this up."