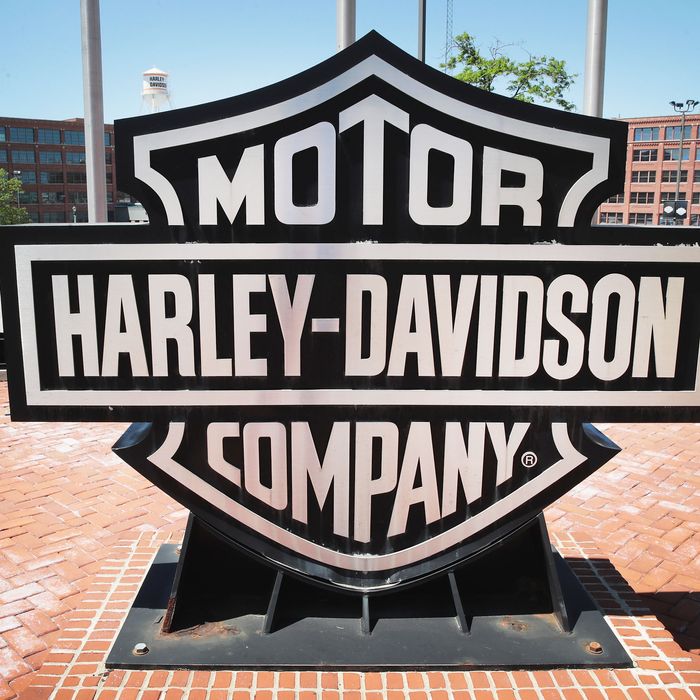 American as apple pie.
Photo: Scott Olson/Getty Images
President Trump's trade war has started to bite American businesses in earnest. Reports have been trickling in for weeks about the deleterious effect the president's economic aggression is having on American businesses, from pork producers to fuel-cell manufacturers.
Monday morning brought news of the most prominent casualty yet. Harley-Davidson, the company synonymous with American motorcycles, announced that it would move production of vehicles bound for European markets out of the United States, to avoid the punitive tariffs the European Union had imposed on some companies importing products from America. Those duties served as the bloc's response to Trump's imposition of steel and aluminum tariffs on the European Union, which the president justified under specious "national security" grounds. Harley-Davidson will soon begin shifting production for its Europe-bound motorcycles to the continent itself, a process that may take over a year. Europe is its second-largest market after the U.S.
On June 22, the E.U. jacked up the tariffs on Harley-Davidson products from 6 percent to 31 percent. In a regulatory filing, the company reported that each vehicle will now cost European consumers an additional $2,200. The total financial hit to the company will be in the range of $90 million to $100 million per year, but Harley-Davidson said it would not pass those costs onto consumers in the form of higher prices. Instead, it will opt for the relocation strategy to save money.
"Increasing international production to alleviate the E.U. tariff burden is not the company's preference, but represents the only sustainable option to make its motorcycles accessible to customers in the E.U. and maintain a viable business in Europe," the company said.
The E.U. had specifically targeted familiar American products like Kentucky bourbon and Florida orange juice to extract punishment after Trump hit the bloc with his steel and aluminum penalties. As Bloomberg notes, Harley-Davidson had already warned that those rules would drive up costs for its raw materials.
Even as American companies feel the heat from Trump's economic aggression, there is no sign that he is backing down. His next move may be to impose steep tariffs on German cars, which would constitute a serious escalation in an economic battle that is translating to real-world losses.
Harley-Davidson's stock, and the Dow Jones as a whole, dipped Monday morning as investors' fears mounted.