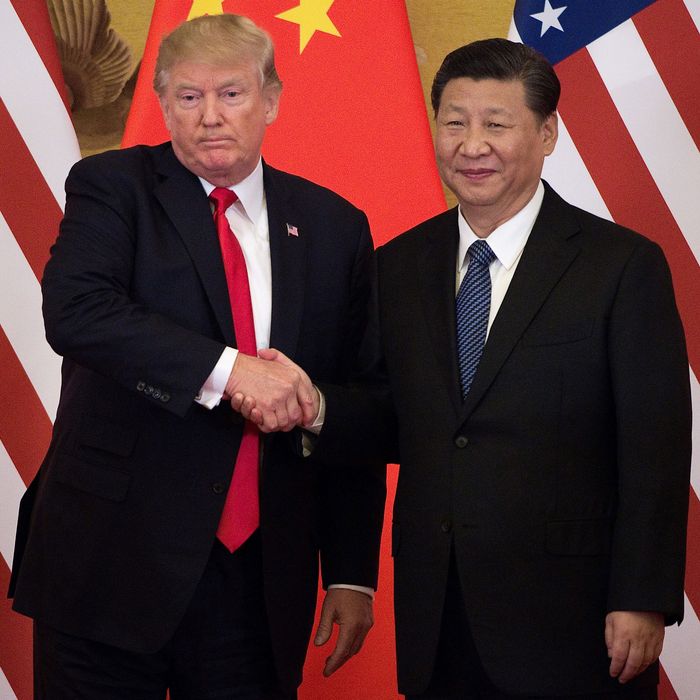 President Donald Trump and China's President Xi Jinping.
Photo: Nicolas Asfouri/AFP/Getty Images
Commerce Secretary Wilbur Ross said Thursday that the Trump administration has a struck a deal with Chinese telecom giant ZTE. The deal will allow the company to restart operations after it pays a $1 billion fine and installs U.S. compliance officers to monitor its activity.
"This is a pretty strict settlement, the strictest and largest fine that has ever been brought by the Commerce Department against any violator of export controls," Ross said on CNBC.
Strict though it may be, the settlement is welcome news in China. An employer of 75,000 people, ZTE was crippled by a Commerce Department ban on American firms selling it electronic parts. The ban will be lifted as a part of the new agreement.
The trouble with ZTE goes back to last year when the company admitted to selling U.S. technology to Iran and North Korea in violation of economic sanctions. ZTE reached an agreement to turn over $1.19 billion and punish executives involved in the scheme, but in April the U.S. determined that the company hadn't lived up to its promises.
That's when the Commerce Department brought the hammer down, banning American firms from selling electronic parts to the smartphone maker. That was a potential death blow to ZTE, which relies on U.S. technology for an estimated 25 to 30 percent of its components.
It's not clear why the Trump administration was so willing to strike a deal with ZTE less than two months after handing down a harsh punishment. The leading theory is that allowing the company to continue operating was a precondition for China's participation is discussions for a larger trade deal. It might also have something to do with Trump enriching himself.
The problems with ZTE extend beyond its violations of sanctions. The company has also been accused of posing a national-security risk to the U.S. In February, six U.S. intelligence chiefs told the Senate that hardware from the Chinese company could not be trusted and advised Americans not to use ZTE phones. FBI Director Chris Wray said the proliferation of ZTE phones in the U.S. provides "the capacity to maliciously modify or steal information. And it provides the capacity to conduct undetected espionage."
Senator Ron Wyden raised both issues Thursday as he called for the agreement to be reversed. "A loser deal for American security & American workers," Wyden tweeted. "@realDonaldTrump & his admin are giving ZTE & China the green light to spy on Americans & sell U.S. tech to North Korea & Iran — as long as it pays a fine that's only tiny fraction of its revenue."