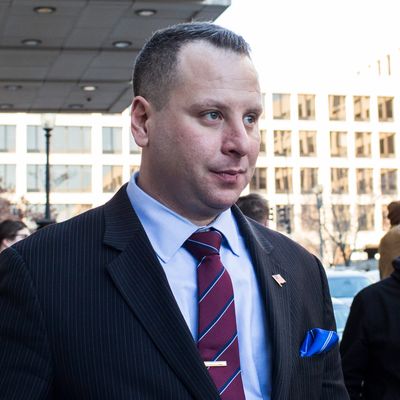 Sam Nunberg says he told prosecutors, "You can just go through everything."
Photo: Zach Gibson/Getty Images
The last time New York heard from Sam Nunberg, he was remarking on the "fat ass" attached to his former boss, President Donald Trump, and explaining his decision — earlier that day — to respond to a subpoena from Special Counsel Robert Mueller by taunting him on live television for roughly six consecutive hours, something that seemed very funny, then worrying, and ultimately just completely nuts.
Nunberg dared Mueller to arrest him, and threatened to rip up the subpoena, which requested "all responsive documents in your possession, custody, or control," related to a list of campaign and White House officials in the following order: Carter Page, Corey Lewandowski, Donald J. Trump, Hope Hicks, Keith Schiller, Michael Cohen, Paul Manafort, Rick Gates, Roger Stone, and Steve Bannon.
But by the time the former Trump campaign adviser phoned New York late that evening, he was contradicting his own bluster toward the office of the special counsel. The episode concluded three days later, on March 9, when Nunberg traveled to Washington to appear before a grand jury.
Even if the one-sided Jerry Springer quality has become less overt, Nunberg's interactions with Mueller remain a compelling part of the ongoing review of Russian meddling in the 2016 election. On Monday evening, the special counsel filed a motion in district court to "revoke or revise" Manafort's "current order of pretrial release," or the terms of his bail. According to Mueller, there is probable cause that Manafort "attempt[ed] to tamper with potential witnesses while on pretrial release and, accordingly, has violated the conditions of release."
This alleged witness tampering was conducted through encrypted messaging apps, the motion states, specifically WhatsApp and Telegram. In conversations with New York on Tuesday and Wednesday, Nunberg said that the office of special counsel had asked him about his own encrypted communications, whether he had apps like Manafort, and even more specific questions like, "When did you download Confide?" (Nunberg said he didn't use WhatsApp, his preferred encrypted platform, until around December 2017.)
Nunberg also told New York that he handed over his old BlackBerry phones — two or three of them, he couldn't remember exactly — following an inquiry from the special counsel's office. And Nunberg, according to a Wednesday CNBC report (plus the Manafort motion) is likely not alone: witnesses have been asked to provide their phones to investigators for the purpose of reviewing "private conversations on WhatsApp, Confide, Signal, and Dust."
Messages on encrypted platforms are only as secure as the messengers make them. Mueller obtained a subpoena for Manafort's iCloud, and according to the motion, some of his encrypted communications were found there. Others were revealed by anonymous sources ("Person D1" and "Person D2" in the court documents). These communications include records of phone calls and attempted phone calls, and also the content of written messages. For instance, we learned that Manafort uses a winky-face emoticon: "[Person D2], hi! How are you? Hope you are doing fine. ;))" he wrote, on WhatsApp, on February 28, 2018.
Anecdotally, encrypted messaging wasn't a feature of political reporting during the 2016 campaign, but beginning nearly the day after the election, it became standard. White House staffers and administration officials and those influencing the place from the outside use these apps to speak to each other and to contact reporters, concerned about hacking and the like. Sometimes, this new system has had embarrassing hiccups. While serving as the White House press secretary, a job that required shrieking about leaks on a daily basis, Sean Spicer downloaded Confide; antithetically, the app sometimes sends an alert to everyone who has your phone number when you join. Everyone, in Spicer's case, was every reporter in the Northeast corridor. But generally, the apps seem like no big deal — some officials and staffers like to use them, others don't seem to care, and at the end of the day they're just one of what feels like a thousand ways to communicate in Washington.
When Nunberg arrived in D.C. to testify back in March, he said he met a government vehicle outside Union Station that brought him to investigators. He handed them his iPhone, laptop, and iPad, as well as all of his passwords, which he said was voluntary. When his grand jury testimony was over several hours later, the devices were returned. "I said, 'You can just go through everything,'" Nunberg said. "It didn't take them long to copy everything."
But the following month, Nunberg said the Office of Special Counsel contacted his attorney requesting his BlackBerry phones. A 2016 email exchange between Nunberg and Stone regarding Julian Assange had been obtained and published by reporter Trey Yingst. In the email, Nunberg's sign-off read, "Sent from my BlackBerry — the most secure mobile device." Mueller and his investigators were unaware that Nunberg had used a BlackBerry, which Nunberg blames on the fact that they had never asked him.
"They requested all my old BlackBerrys under the ridiculous rationale that I was hiding from them that I used to have BlackBerrys," he said. "I went from BlackBerry to iPhone around mid-2017. They never asked me the history of what phones I've had!"
Nunberg said, in the most Nunberg way possible, that he provided the Office of Special Counsel with the devices: "What the fuck do they need my fucking BlackBerrys for?" he asked. "Some of them don't even, frankly, work … They can keep them. I don't use them. I don't give a shit. They can keep them as a memento."
Update: On Thursday Nunberg called New York to clarify that he downloaded WhatsApp in the winter of 2016. He added that he'd never communicated on the app with anyone involved on the Trump campaign.