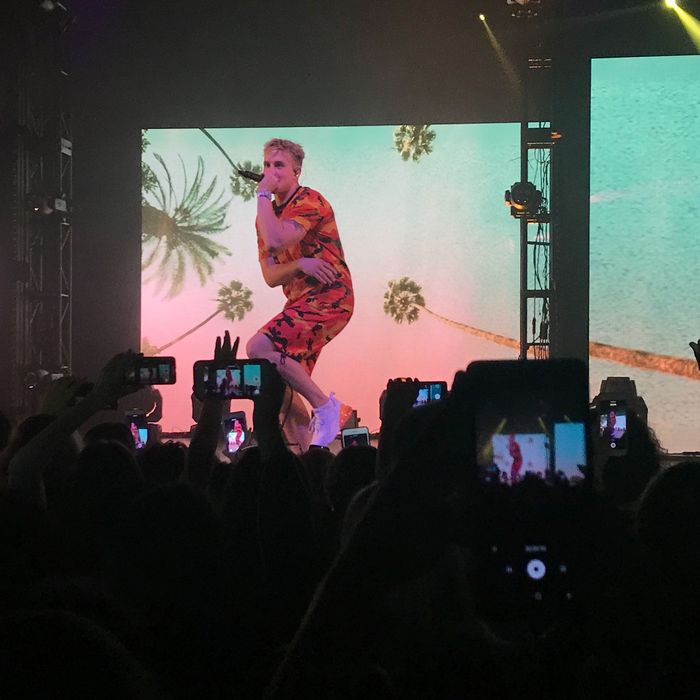 The man. The myth. The legend you probably haven't heard about unless have a teenager … Jake Paul.
Photo: Madison Malone Kircher
"It's her! She's here," a preteen girl standing in a corral on 44th street screamed in my face last night. She and I and dozens of other kids (and their parents) were standing outside the PlayStation Theater waiting for the start of Jake Paul's Team 10 Live show. Team 10, in case you aren't currently parenting a 12-year-old, is a "social-media incubator" run by infamous YouTuber Jake Paul. It's kind of like a start-up-inflected record label, intent on fostering and promoting internet talent. I turned to see what my neighbor was screaming at. Sunny Malouf, resident Texan? Erika Costell, "the Female Jake Paul?" They are, after all, the only women in the group. But following her finger I found a middle-aged woman in a blue-and-white striped shirt. "Is that just somebody's mom?," I asked. What a rube. "It's ERIKA's mom!" several kids yelled back at me. Oh. Right. Erika's mom. "Erika! Erika! Erika!"
Jake Paul's fans are devoted — chant-for-Paul's-girlfriend's-mother devoted. But much, if not all, of Paul's brand is built on the idea that he has haters. Masses and masses of haters. Why does he have haters, you ask? Great question. There was that time he lit a fire in his empty swimming pool and drove his neighbors so crazy he was driven out of town. Known hater Disney Channel dropped him from children's show "Bizaardvark" following the incident. Former members of Team 10 have called Paul out for being a bully. "SERIOUSLY no one in this industry or social media space wants to see us win.. but we do… everyday bro," Paul wrote in a recent tweet.
It's an ethos that has rubbed off on his fans. "A lot of people hate me," a 10-year-old named Andrew said. "Jake inspires me to deal with my haters." When I asked Andrew why he felt like people hated him, he told me they "just do." You know, "like they hate Jake." The word "inspire" gets tossed around a lot by Paul's fans. If I had played a drinking game with it, I'd have been on the floor after about an hour in line. These kids are definitely "inspired" as hell by Jake Paul. They are, however, a little less definite about what he inspires them to do. When pressed, fans told me things like, "inspires me to be myself," or "to follow my dreams." And of course, to stand up to their haters.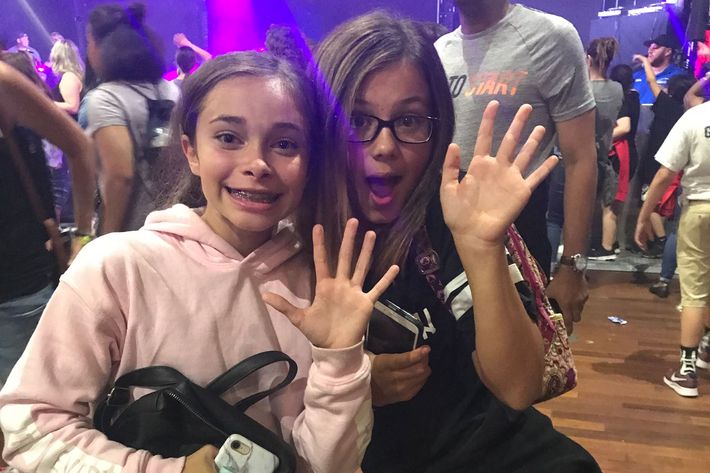 Getting into the venue was a nightmare. The doors to the theater opened at 6:30. Families on the street told me they arrived as early as 2 p.m. to stand in line. That is, those families who got the email this week notifying them that the venue had changed. Paul & Co. was originally slated to play Rumsey Playfield in Central Park, capacity 5,500. The capacity at the PlayStation Theatre is 2,100. It was not even close to full. (Paul's representation did not respond to request for comment regarding the last-minute switch.) A friend attending the event told me a scalper on the street said he hadn't been able to sell a single ticket. Several families tried to sell me their extras. The box office still had tickets for sale, about $50, when the doors opened. "She just hurt her leg," one mom says, gesturing to her daughter, Ashley, who is sporting a Jake Paul T-shirt and crutches and says she hopes she'll get the chance to touch Paul. "But we took the train in to see him anyway."
Once inside, we descend a long escalator and turn left to find our places by the stage. Well, turn left, walk past the merchandise table, and then find our places. The table is, unsurprisingly, mobbed. T-shirts retail for $30. Hoodies around $50. "He's very good at motivating kids to get the parents to buy merch," the mother of an 11-year-old told me in line. (A journalist who attended Team 10 Live in Maryland found that show to be very heavy on the merch pushing. Thursday's show wasn't terrible on that front.) Inside the theater, there's a standing-room section directly in front of the stage. Farther back, there's a roped-off section with VIP tables. Behind that are seats, from which anybody who was smart opted to view the show. I was not smart. "That was painful, but at least I could sit down," one mother told me as we were leaving. She and her kids had originally been in the very front of the standing section but bailed to the back when her daughter, 12, became overwhelmed. I talk to a family of five sitting in the VIP section. They're all wearing holographic badges designating them as such, which included a meet-and-greet with Paul and the team — "he was so nice" — before the show. A VIP ticket cost $1,100.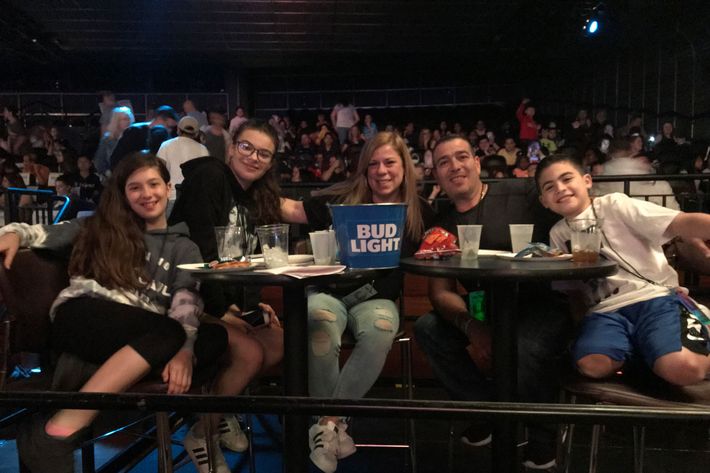 The show kicks off at 7 p.m. with a guy named DJ EV. He wishes a happy 10th birthday to "Blake from New Jersey." Every kid in the place shouts along to "Bodak Yellow," which will play several times more throughout the evening. Next up, Jitt and Quan, two of the youngest and newest members of Team 10, take the stage to rap, sporting "I Heart NY" tees and Gucci cross-body bags. It's Jitt's 14th birthday. I already know this because the crowds outside sang him a happy birthday earlier in the night. We do it again, anyway. Later, we'll do it a third time when Paul brings a cake out on stage. Happy birthday, Jitt! The father next to me tells his son, who is perched atop his shoulders, that his back is starting to hurt. We've been watching the show for 20 minutes.
Next, Sunny Malouf, the only female member of Team 10 who isn't Paul's girlfriend, takes the stage to sing. Sort of — there's a lot of lip-syncing on the Team 10 tour. She's sporting what I can only describe as "a raincoat, but fashion." It's a full-length clear, plastic jacket paired with wide-legged pants made from red bandanas. Sunny's biggest hit is song called "On My Wrist," an ode to her "100 karat" watch. There's a line about how she eats "all her veggies … that's 14 karats." She's flanked by male backup dancers wearing hoodies emblazoned with her name written Thrasher-style. The female backup dancers are wearing what look like wetsuits. Towards the end of her set, Malouf monologues about all the "hard work and dedication" it has taken to get her to this point in her career. "If I can do it, you can do it, too." Malouf's father is a reported billionaire dentist from Texas best known for combining two mansions into one and allegedly defrauding Medicaid out of millions.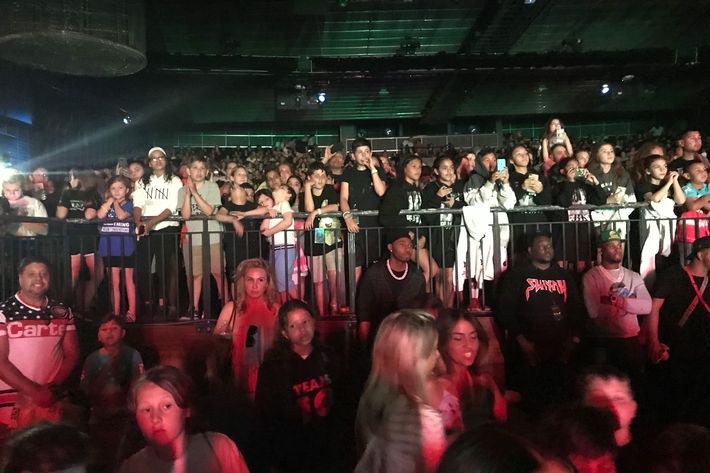 At this point it's been 50 minutes and we still haven't had a Paul sighting. Finally, he emerges. Paul is waking up from a bad dream in his childhood bedroom in Ohio and waxing poetic about his dreams of moving to Los Angeles and how hard that will be. "My friends don't even know what L.A. is." The rest of the Team 10 crew — minus the members who all quit in the weeks between the tour announcement and the actual tour, reportedly over conflicts with Paul's father — gets announced by DJ EV. Each member's name is accompanied by a fun fact. For most of the dudes this is an association with a hot woman (usually a mother or sister) in their lives. The group performs Paul's seminal and grammatically incorrect hit, "It's Everyday Bro." Jake and Chad Tepper — his name flashes across the screen as "CHD TPR" like he's some kind of app — play a game where they swipe on Tinder to find Tepper a girlfriend. It's disconcerting to hear a crowd full of kids screaming "no, no, no" to pictures of women, all of them conventionally attractive, flying across the "live" Tinder feed displayed onstage. Tepper and Paul finally settle on one. She lives in Malibu. Paul has a song called "Malibu." Later in the show Tepper admits to actually having a girlfriend and points her out in the crowd.
Much of the Team 10 Live show hinges on pre-shot footage that is shown while the actual Team is offstage. In one segment, we watched a video of Paul eating a bucket of KFC "backstage." This is, of course, the cue for Paul to perform "OFC," a song about how he plans to start a similar franchise (subbing in Ohio for Kentucky). The number is "rapped" without microphones. Next up, a video call from Paul's brother Logan — the one who vlogged the dead body in Japan — who is mad about something. (The two brothers are notoriously always feuding.) Paul performs "I Love You Big Bro." A father in line told me this was his favorite song and he hoped Paul would perform it. He sang me some of the lyrics in line. I was happy for him in this moment. "I love diss tracks," a kid standing near me shouted.
There was another hour of this show to go, but I hadn't realized this yet. (If you really want to get the full sense of the show, Drew Gooden has an excellent breakdown, complete with footage, you can watch here.) They performed a song the gist of which is, "we're rich!" There's a line about having, "so much money I can't see the floor" and another about eating at Nobu. A later number is devoted to all things Cartier. Paul called for the crowd to scream as loud as we could. He said Boston had so far been the "most lit" city. We scream and New York is awarded the title. I imagine Columbus, Ohio, the tour's next stop, will usurp us soon. There was a dance break. "Swish Swish" by Katy Perry played and several kids around me began flossing. I couldn't make my arms do that.
Compared to the vibes in the crowds outside Paul's pop-up store in New York City in December, things last night felt a little different. The young fans were still rabid, sure, but something was off. Maybe it was the clear struggles with ticket sales or the fact that unlike the store — Paul only hosted pop-ups in New York and L.A. — the tour is stopping in dozens of cities so people don't have to travel that far to come see him. The energy didn't feel the same as it did standing amid throngs of people in the freezing cold and rain willing to wait hours just for the opportunity to catch a glimpse of Paul. (Many pop-up visitors didn't realize you needed tickets to get inside. They hung around anyway.)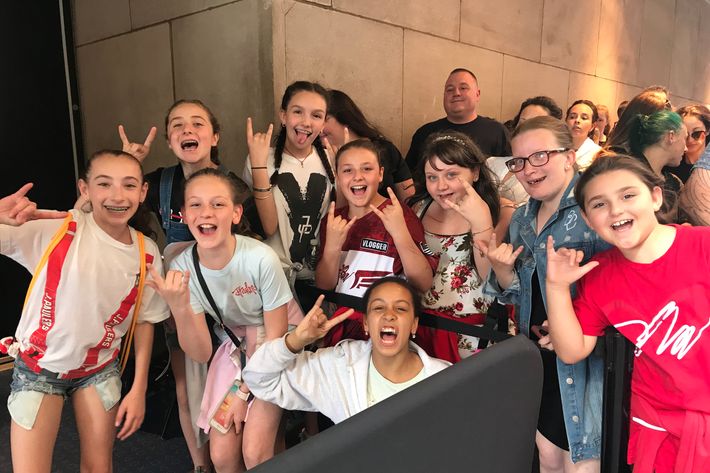 The show's one surprisingly endearing moment was a guest appearance from Matt Preston, a teacher from Texas who went viral earlier this spring after writing a diss track in response to Paul's diss track about teachers. Preston performed his rap — not for nothing, his flow isn't terrible — and hugged it out with Paul. "We don't teach you to stack your paper because we don't make a lot of paper," Preston said, explaining while Paul might have had less-than-ideal teachers back in his school days, most educators are just trying to "do our best." (One of the gripes cited in "My Teachers" is that Paul was never taught "how to buy a Lambo.") Paul apologized and shouted, "I love teachers!" The crowd went wild. It was the most wholesome and age-appropriate moment of the whole show. Which, hm, almost like it was orchestrated by somebody trained to work with children!
The most uncomfortable moment of the show was a number devoted to all things "Jerika." This is Costell and Paul's couple name. They performed a skit reimagining the time Paul was nervous about asking her out on a date. "Oh my god! Don't be a sissy! Sack up and ask her," a voice-over of Paul's inner monologue said. He did and the two went on a "date" while performing the aptly named "Jerika," a song in which Paul described her as "cute like a chicken thigh." A 10-year-old named Julianna told me Paul is a good boyfriend because "he rescued Erika when she was kidnapped." By this, she means he "rescued" her in a staged video in which she was abducted by "killer clowns." There was a lot of dramatic posing where two two held each other. They kissed several times. Earlier in the week, Paul dropped a merch line devoted entirely to their relationship.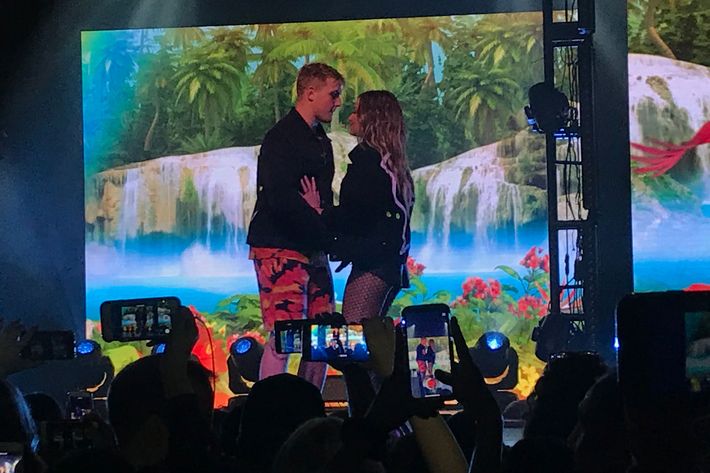 Later in the show, Erika performed her song "Chitty Bang." It's catchy as hell and a fan favorite. There's a charming verse about how she has "a flat stomach and green eyes." None of the kids I asked had ever heard of Chitty Chitty Bang Bang. That, and the fact that I came with a pair of earplugs, made me feel, at age 26, very old. Paul offered up an inspirational speech about smiling and dabbing on your haters. "Mini Jake Paul," a child of YouTubers who went viral in his own right for looking like a toddler version of Paul, appeared on stage. The crowd lost it. Paul declared us "rowdy." The group closed the night with another performance of "It's Everyday Bro," but this time in bedazzled tracksuits. It was 8:53 p.m. I know this because I wrote down the time and scrawled "IS THIS THE END????"
The lights came on and we all began sauntering toward the door. When I spotted her afterward, Ashley — the girl I met on crutches — told me the show was "amazing" and that Jake Paul pointed her out in the crowd, shouting something from stage about seeing "you with the poster." "I was the one with the poster," the 12-year-old explained. I didn't have the heart to point out that there were at least a dozen signs in the crowd.