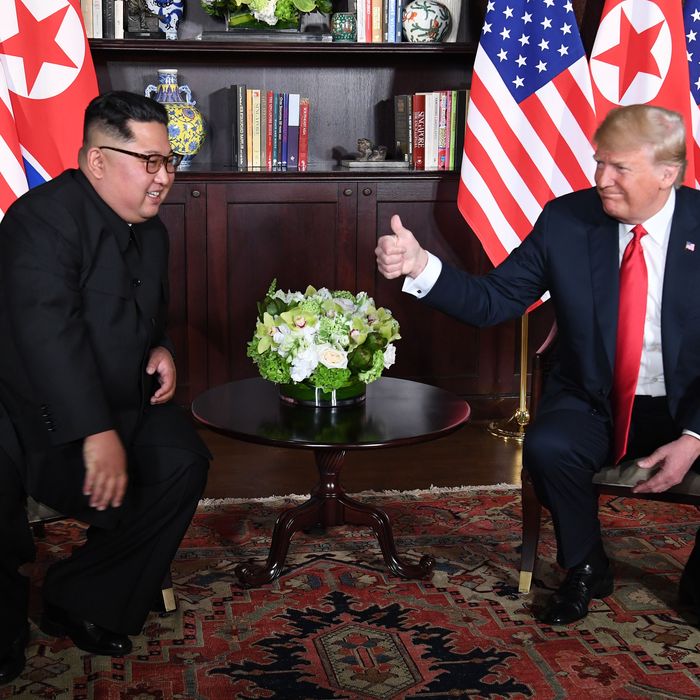 Trump seemed pretty pleased.
Photo: SAUL LOEB/AFP/Getty Images
Just before setting off for his summit with Kim Jong-un in Singapore, President Trump claimed he'd know whether the meeting was a success almost immediately. "I think within the first minute, I'll know," Trump said, explaining that it would be "just, my touch, my feel — that's what I do."
This did not inspire much confidence, particularly in light of previous suggestions that Trump wasn't studying for his sit-down with Kim. It turns out Trump was right, in a way. The summit was so light on substance that it probably didn't require detailed knowledge of North Korea's nuclear-weapons program, and the key outcomes were apparent by the time the two leaders completed their first one-on-one conversation. Here's an early look at who benefitted from the meeting, and who's worse off.
North Korea's Prestige
The visuals — from the massed banks of U.S. and North Korean flags to shots of the two leaders chatting amicably — were everything the North could have wanted, and probably more than the kidnapped film directors who made Pyongyang's propaganda movies for years would have dared imagine. North Koreans have been told that they sacrificed material well-being for decades to get weapons that would earn them the respect of a world that has treated them as illegitimate. These pictures will seem to confirm that story.
Also, the images of Kim Jong-un touring Singapore and arriving early to the summit venue to show respect to the elder Trump will play in marked contrast to a cartoon circulating on Chinese social media, showing a diplomatic table, with one high chair for the United States.
President Trump
Trump's base responded very positively, embracing the historic nature of the occasion and perceiving the president as strong, decisive, and willing to shatter old diplomatic norms. Conservative activist Charlie Kirk summed up the mood in Trump country on Monday night:
Many conservative defense intellectuals who served in previous administrations joined their liberal colleagues in fretting over whether Trump could actually get the North to take concrete steps toward denuclearization. However, few called on Congress to take even the most minimal steps to put pressure on the president — for instance, backing the bipartisan bill that would require the Trump administration to brief lawmakers on negotiations with North Korea. As long as his own party is not willing to challenge the summit outcome in any way, Trump has endless freedom of action; he can plan further meetings, stall the process, or blow up negotiations altogether with one midair tweet.
Anyone Worried About Escalating Military Tensions With North Korea
The idea that anything positive could come out of this session is a hard pill for Trump's opponents on the left and right to swallow. But how quickly we forget. Just four months ago, the two regimes had egged each other on to the point that a range of voices in Washington were musing about launching a preventive war — and observers feared that momentum couldn't be stopped. Yes, it's a ridiculous waste of U.S. attention and resources to spend a year ratcheting up a confrontation and then four months ratcheting it down. Yet here we are. A cynic would expect to see that cycle repeated as long as it brings all sides good ratings.
Diplomatic Norms Meant to Prevent War
Let's also give Trump's improvisational, personality-based approach its due. It makes great TV, which is what it's intended for. But every tool the international community has to prevent war, grow economies, and safeguard the vulnerable is premised on structures, commitments, reliability, and patience. There's a reason for that: in the past century, the personalized leadership style Trump and Kim represent has dragged the world into two cataclysmic wars, and to the brink of nuclear annihilation.
Victims of Human-Rights Abuses
Before the summit, administration sources said Trump had decided not to mention Kim's horrific record on human rights. It appears he was true to his word. Though Trump promised during the last State of the Union to honor the memory of Otto Warmbier, the American student who died shortly after being returned from North Korean custody, he was silent when asked about him in front of Kim.
When pressed on this during a solo press conference, Trump made the dubious claim that the summit wouldn't have happened if it weren't for Warmbier — but only after offering more praise for the leadership skills of the man responsible for his death.
American Foreign Policy That Promised Something More Than Photo Ops With Dictators
Atlantic editor Jeffrey Goldberg reported this week that the Trump Doctrine he heard from multiple White House advisers was short and to the point: "We're America, bitch."
It's the perfect encapsulation of the Trump administration's false bravado. This is an America that uses a misogynist slur to cast the rest of the world as weak and acted-upon. It's also an America that proudly sits down with the leader of a murderous regime; says nothing about the suffering of the North Korean people; and seems content to come away with no concrete road map to address the nuclear weapons that threaten our nation and our allies. Doesn't seem that tough, does it?