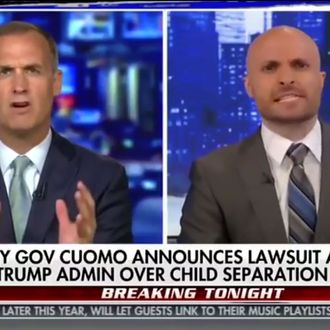 Corey Lewandowski, the former Trump campaign manager and current Trump orbit hanger-on, has been dropped by his Washington, D.C., speaker's bureau after he mocked a 10-year-old with Down syndrome who was removed from her mother at the border.
According to CNN, Leading Authorities Inc. cut ties with Lewandowski on Wednesday, a day after he said "Womp womp" in response to Democratic strategist Zac Petkanas bringing up the girl's story.
The Mexican government has said that the 10-year-old girl and her brother are being detained in McAllen, Texas, while their mother is locked up in Brownsville.
Lewandowski has refused to apologize for the callous remark, saying that he was mocking Petkanas, not the girl.
The trouble might not be over for Lewandowski. T-Mobile, which hired him to help secure federal approval for a merger with Sprint, is also being urged to cut ties with him.