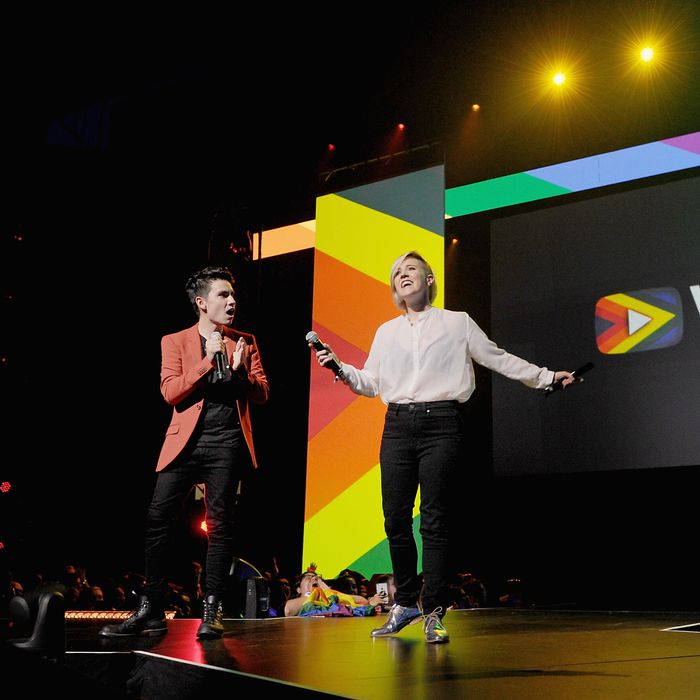 Photo: FilmMagic for YouTube
This week at VidCon, the convention of online video stars guaranteed to remind you of time's rapid procession and the inescapability of death, YouTube announced a monetization scheme that creators have long been asking for. Taking a page from the Twitch playbook, fans can now buy Channel Memberships, subscribing to a YouTuber's channel for exclusive features and information. Previously, YouTube introduced Super Chat, a copy of Twitch's Bits system that functions as a sort of virtual tip jar for livestreamers.
"With Channel Memberships," their announcement blog post states, "viewers pay a monthly recurring fee of $4.99 to get unique badges, new emoji, Members-only posts in the Community tab, and access to unique custom perks offered by creators, such as exclusive livestreams, extra videos, or shout-outs." Channels with more than 100,000 subscribers can have memberships, a more difficult but easily measured requirement than Twitch's Partnership program, which users have to apply for on a case-by-case basis.
The announcement, allowing popular channels to monetize their audience directly and on a recurring basis — rather than through ads sold and placed by YouTube without creator input or one-time merch sales — could help quell some of the frustration that popular YouTubers have been voicing in recent months. Payouts have been erratic, and some are considering leaving the platform for one that they have more control over. The new monetization options should fix some of that.