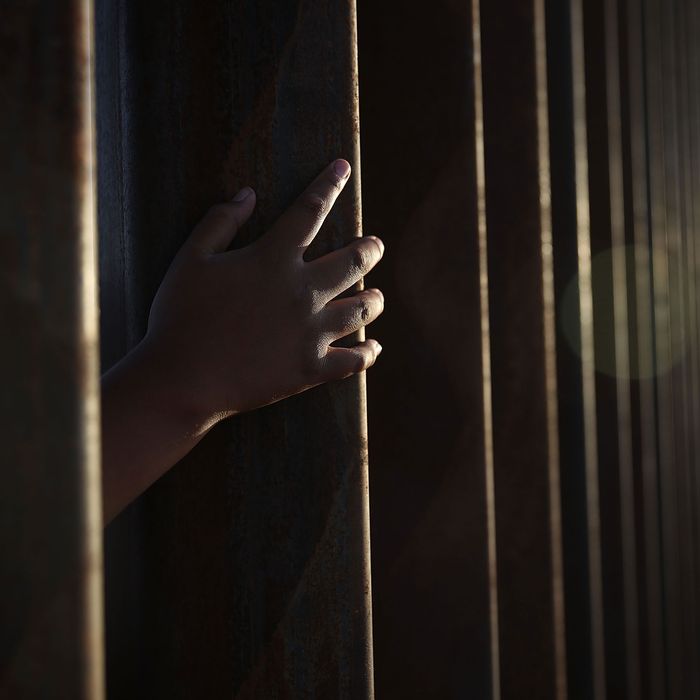 A child reaches through from the Mexican side of the U.S./Mexico border fence.
Photo: Joe Raedle/Getty Images
When President Trump signed an executive order last week to end his administration's policy of separating parents from their children at the U.S.-Mexico border, he vowed that the rest of the "zero tolerance" policy put into place by Attorney General Jeff Sessions would remain in place.
But on Monday, the top U.S. border official said that officials would stop referring adults who cross the border illegally for automatic prosecution. Charging migrants with criminal offenses, rather than immediately sending them back over the border or allowing them to stay in the United States pending a hearing, was a central component of Sessions's border crackdown.
Kevin K. McAleenan, the commissioner of Customs and Border Protection, told reporters that he would tell border agents to stop referring all adults who cross the border to prosecutors, while the Department of Justice and CBP come up with a way to prosecute parents without separating them from their children.
The Trump administration's hand is limited by the Flores agreement, a Clinton-era consent decree that forbids the government to detain children for more than 20 days. The family-separation policy allowed the administration to simply prosecute parents and send the children to "foster care, or whatever," in John Kelly's words. But with Trump backing down on that plan in the face of widespread public outrage, the administration must find another strategy. It has asked a federal judge to change the terms of the Flores agreement to allow for longer detentions of families, but faces an uphill battle.
The "zero tolerance" policy has also strained resources across the southern border, and Press Secretary Sarah Huckabee Sanders framed the new approach as one of man power.
"We're not changing the policy. We're simply out of resources," said Sarah Huckabee Sanders.
And during a Nevada speech to school resource officers, Attorney General Jeff Sessions did not back down on zero tolerance. "We're going to continue to prosecute those adults who enter here illegally," he said.
But, for now at least, his harsh version of justice at the border has been put on hold.