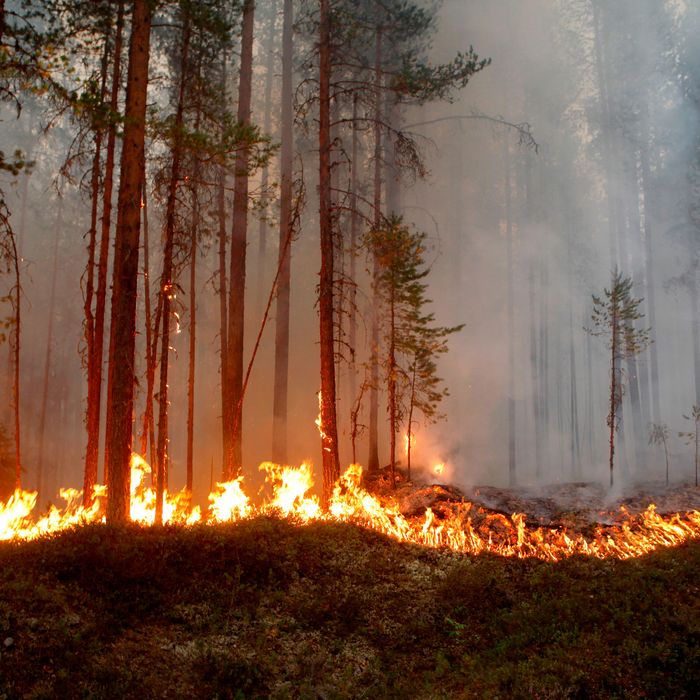 Fire burns in Karbole, Sweden.
Photo: Mats Andersson/AFP/Getty Images
From Japan to Sweden, and Oman to Texas, a global heat wave is setting records, igniting wildfires, and killing dozens all across the world this week.
The south-central region is home to the highest temperatures in the U.S. this week, with nearly 35 million people living under excessive heat warnings issued by the National Weather Service. Temperatures are expected to be in the triple digits across Texas this weekend, marking the most severe heat wave in the state since 2011.
The Texas heat has already led to record-breaking days for the Texas power grid twice this week. Things aren't any better elsewhere in the region, with heat indexes in Oklahoma, Arkansas, and Louisiana reaching up to 110 degrees.
Across the globe in Kyoto, Japan, Thursday marked the seventh straight day of temperatures that exceeded 100 degrees, breaking all known records for the ancient capital city. At least 30 people have died in Japan during the heat wave, which has complicated rescue efforts following floods and landslides that killed more than 200 in western Japan earlier this month.
On Thursday alone ten people died and 2,605 people were sent to hospitals in Tokyo due to heat, the Japan Times reports. The day before, Tokyo rescue workers set a record by responding to more than 3,000 emergency calls.
Meanwhile, in Sweden, the Arctic Circle is on fire.
High temperatures and a prolonged drought have caused 49 fires to ignite across Sweden, with temperatures reaching 90 degrees as far north as the Arctic Circle this week. According to the Washington Post, temperatures in Scandinavia typically settle in the 60s and 70s this time of year, meaning the current heat wave is making things around 20 degrees hotter than normal.
The list of areas experiencing extreme temperatures keeps going: An Algerian city earlier this month broke the record for the highest temperature ever in Africa when it hit 124.3 degrees and a city in Oman recorded the highest low temperature — 108.7 degrees — ever recorded on Earth. In Quebec, more than 90 people were killed by extreme heat in early July.
It's impossible to talk about these extreme temperatures without talking about climate change. Heat domes — high-pressure areas that trap hot air and increase temperatures — are being blamed for these heat waves and they have become more common as the climate has warmed. Research has also repeatedly linked the warming climate to heat waves.
As climate scientist Ben Santer, who linked the burning of fossil fuels to the intense heat waves, told the Los Angeles Times this week, "This isn't a big scientific surprise."