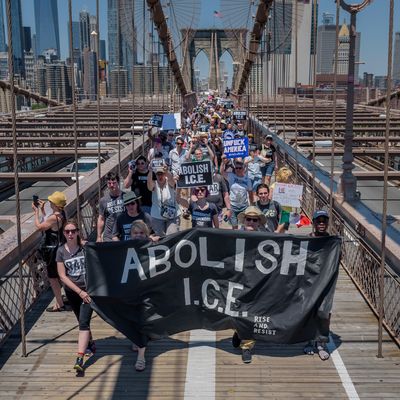 Some liberals who aren't dialing back their stance on ICE.
Photo: Pacific Press/LightRocket via Getty Images
When hundreds of thousands of people turned out to protest the Trump administration's immigration policies on Saturday, many held signs bearing the slogan "Abolish ICE." Several months ago, it was mainly immigration activists calling for an end to U.S. Immigration and Customs Enforcement, but amid the anger over family separations at the border, last month several lawmakers embraced the phrase. Supporters now include Senators Kirsten Gillibrand and Elizabeth Warren, four House Democrats, New York City mayor Bill de Blasio, and a handful of candidates for office — most notably Alexandria Ocasio-Cortez, who shot to fame last week with her primary victory over House Democratic Caucus Chair Joe Crowley.
This kicked off a debate over how Democrats adopting more extreme immigration rhetoric might affect the midterms. Over the weekend Trump demonstrated how he intends to use the phrase — plus some made-up "facts" — to further his claims about his opponents' lawlessness. Meanwhile, some Democrats signaled that they aren't quite ready for the call to go mainstream within their party.
While Trump responded to this year's women's marches with a single Twitter taunt, he lashed out at immigration protesters in multiple platforms all weekend. His first tweet on Saturday started with the call to "abolish ICE."
ICE has not "liberated" any towns from MS-13, and when the New York Times asked for an explanation, the Trump administration declined to elaborate. CNN reported in May:
There is no hard evidence that MS-13 has become more of a problem in the US in recent years. Arrests of gang members by Homeland Security Investigations under ICE have fluctuated in recent years, but have shown no clear downward or upward trend. Anecdotally, some local law enforcement chiefs have noticed an increase in murders connected to the gang in some capacity in recent months.




Per the FBI's most recent statistics, the roughly 10,000 MS-13 members are a fraction of the estimated 1.4 million members of US gangs nationally, and made up less than 10% of the arrests in ICE's gang crackdown announced last week.
Trump continued his far-fetched argument that ICE is all that's standing between us and rampant immigrant criminality in an interview with Maria Bartiromo on Fox News' Sunday Morning Futures.
"You know ICE these are the guys that go in and take MS-13, and they take them out because they're much tougher than MS-13, like by a factor of ten," Trump said. "You get rid of ICE you're going to have a country that you're going to be afraid to walk out of your house."
He added that he's happy Democrats are talking about abolishing ICE and having open borders (which they aren't). "I think they'll never win another election so I'm actually quite happy about it," he said.
"Abolish ICE" was inspired by conservative calls to get rid of the Internal Revenue Service and various other agencies they dislike, and the phrase does not mean an end to all of the functions ICE has been tasked with since it was created post-9/11. In an interview with the Intercept last month, Ocasio-Cortez gave a lengthy description of what a post-ICE world would look like, concluding, "abolishing ICE doesn't mean get rid of our immigration policy, but what it does mean is to get rid of the draconian enforcement that has happened since 2003 that routinely violates our civil rights, because, frankly, it was designed with that structure in mind."
Julian Zelizer, a history and public-affairs professor at Princeton University, argued in a CNN op-ed this weekend that embracing a position that requires an explanation to the average voter is a risky midterm strategy. He said that unlike the IRS, many Americans are not familiar with what ICE does, and the slogan might take attention away from ending Trump's immigration policies:
The main problem with the abolish ICE stance is that the strategy shifts attention away from Trump and his hardline policies and toward the issue of government reorganization. In 2018, Democrats who are angry about the ongoing attacks on undocumented immigrants, as well as legal immigration, don't really need anything more to rally around. They already have Trump and his blistering rhetoric, and they have the extraordinarily harsh policy of separating children from their families – which, though the President has ended, still remains an issue since more than 2,000 immigrant kids remain in limbo.
As the Washington Post's David Weigel noted, the demand to abolish ICE is so new that we don't know how voters will react to it. Despite pressure from certain elements of the base, some Democrats are holding off on advocating for ICE's demise.
When asked if he favors abolishing ICE last month, Senator Bernie Sanders dodged the question, saying he wants to "create policies which deal with immigration in a rational way." Several months ago, Senator Kamala Harris said "ICE should exist," but in a recent interview she said we should "critically reexamine ICE and its role," and "probably think about starting from scratch" (without using the word "abolish").
The Congressional Hispanic Caucus takes a milder position. On Friday night the Daily Beast obtained talking points that call for "increasing transparency and accountability" but conclude that "abolishing ICE without changing President Trump's disastrous immigration policy will not solve the problem."
On the Sunday shows, three Democratic senators downplayed calls to get rid of ICE, trying to bring the focus back to Trump. On This Week, Senator Amy Klobuchar said "we are always going to need immigration enforcement," but "what has to change are the policies, and the people that are making these policies are making horrendous decisions like separating kids from their parents."
Senator Richard Blumenthal told Face the Nation, "Abolishing ICE will accomplish nothing unless we change the Trump policies."
And on CNN's State of the Union, Senator Tammy Duckworth said there are "a lot of other things we can do before we get to that point" of ending the agency.
"I think if you abolish ICE as it is as an executive agency, it reflects the policies of the White House, of the president," she said. "You abolish ICE now, you still have the same president with the same failed policies, whatever you replace it with is just still (going to) reflect what this president wants to do."
While the senators were trying to temper the Democrats' position, they still demonstrated the effect the message has had on their party. Four months ago senators on the Sunday shows were not discussing how far they'd be willing to go in overhauling the agency.