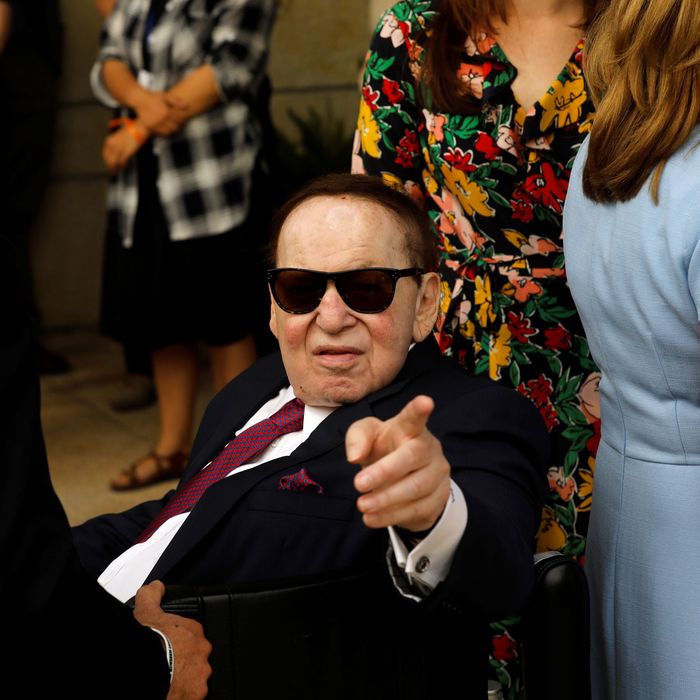 Sheldon Adelson wants to bring his business to North Korea.
Photo: Menahem Kahana/AFP/Getty Images
Casino mogul Sheldon Adelson, a die-hard Trump supporter who pumped tens of millions of dollars into his presidential campaign, wants to put a casino in North Korea, he recently told a crowd in Jerusalem according to Casino News Daily.
The Republican megadonor was speaking at an event organized by Birthright Israel, a nonprofit that organizes free trips to Israel for Jewish young people. Adelson, who has given more than $410 million to the group over the years, told the crowd that he served in the Korean War and hopes Trump can help "North and South Korea finish the war." Why? So he can return to Korea and "open up [his] business."
In an email, Las Vegas Sands Corp. spokesman Ron Reese wrote that Adelson was referring to opening a casino in South Korea. It's unclear why the war would need to end for Sands to build in South Korea though. Addressing that question, Reese wrote, "I'm sure a lot of American companies would feel even better about doing business in South Korea if the situation with the North was resolved." He added: "Bottom line, the company's interest remains in South Korea."
Adelson's massive casino business, the largest in the world, spans the globe. He has properties in Las Vegas, Pennsylvania, China, and Singapore, which attracted a noted visitor last month. During his day of sightseeing in Singapore ahead of last month's summit with President Trump, Kim Jong-un paid a visit to the Marina Bay Sands.
The North Korean leader has been pushing to expand tourism in his isolated and heavily sanctioned country. Along with funneling much-needed hard currency to the regime, tourism remains one of the few areas of the North Korean economy not "fully choked by international sanctions over Pyongyang's nuclear weapons programmes," Reuters reported earlier this year.
Trump himself has seemed to promote North Korea as a potential tourist destination, at least once the whole threat of nuclear catastrophe is erased. "They have great beaches," Trump said at a press conference after his summit with Kim last month. He added: "You see that whenever they're exploding their cannons into the ocean. I said, 'Boy, look at that view. Wouldn't that make a great condo?' You could have the best hotels in the world right there."