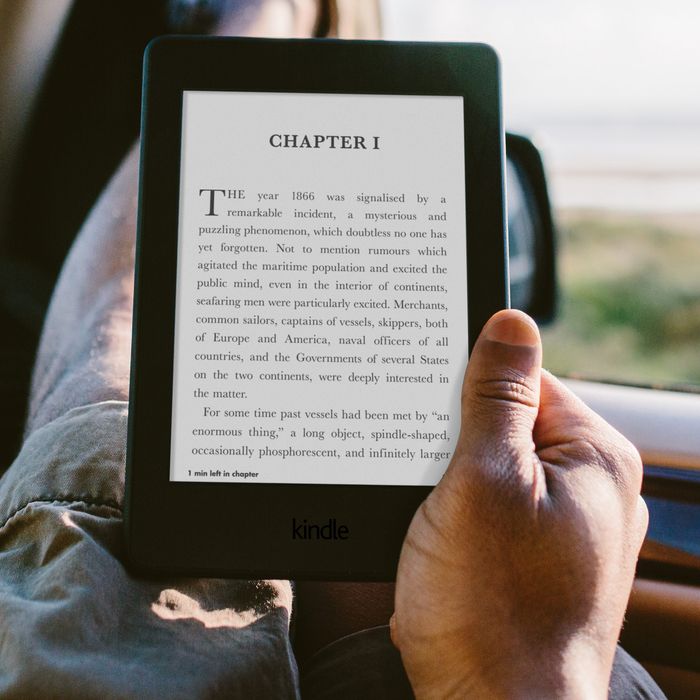 There's a great sale on Kindles right now.
Photo: Everett Bouwer/Amazon
Kindle owners, stop reading. Everybody else … welcome. If you've been thinking about making the jump into the world of Amazon e-readers, this is your week. The online retailer has several deals running for Prime Day taking significant cuts on the standard Kindle, and, my personal favorite, the Kindle Paperwhite.
How much of a discount are we talking?
The Kindle and Kindle Paperwhite are on sale. The basic Kindle is priced at $49.99, which is $30 off the regular price. The Kindle Paperwhite is $40 off at $79.99.
But I'm not an Amazon Prime member.
Maybe consider joining? Or see if anybody you know or have dated or play shuffleboard with is a Prime member and will loan you their account. Or, not that we'd ever suggest doing this, consider signing up for Amazon's free Prime trial, ordering your Kindle, and then canceling the membership at no cost to yourself.
Why should I spend money on a device to read books when I'll still have to shell out more cash for any actual books, too?
E-books are markedly cheaper than their physical counterparts. Once you break even on the device itself, you'll actually be saving yourself money in the long run. Plus, it feels good in hand, and gives you the freedom to read your smutty novel of choice on the subway without anybody knowing.
What if it breaks. Books don't break.
I've been rocking the same Kindle Paperwhite for four years now with zero problems. This includes several drops from my bed to the floor, lugging it around in backpacks and purses, trips to the beach (though I do keep it in a Ziploc bag to avoid sand), and forgetting it in the passenger's seat of a car left in subzero temperatures for an entire weekend. Before that, I was the proud owner the original Kindle — the one Oprah held up to the world and gave away at Christmas in 2007 — a hand-me-down from my mother, which worked perfectly well for many years. Even if it was ugly as heck. (The new Kindles are much cuter.)
So which model should I buy?
The basic Kindle is just that — basic. It doesn't have a lit screen, which means your options for reading locations are limited to anywhere you'd be able to read a traditional book. Read: Somewhere well-lit. At $80, the Kindle Paperwhite is the perfect pick. It's kind of like the spoon; it does exactly what you need it to do, and there's really nothing else you could ask of it. It's portable, efficient, and you can use it anywhere.
Really, another $30 just to get the one with the screen that lights up?
Spend the $30 now and you'll thank yourself later. The Paperwhite's built-in light is an investment in never falling asleep with a book on your face and your bedside lamp on again. It's an investment in letting your partner get some shut-eye, if they're sleepy and you're wired up reading The Magicians. Also, it's worth $30 to keep your partner from storing up mental images of you wearing a headlamp in bed. (This is purely a hypothetical situation.)
You can purchase the basic Kindle and Kindle Paperwhite on sale on Amazon today.
If you buy something through our links, New York may earn an affiliate commission.