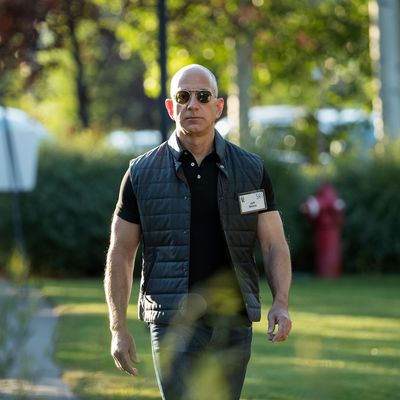 Like CEO Jeff Bezos, Amazon continues to grow.
Photo: Drew Angerer/Getty Images
By the end of 2018, Amazon is expected to control nearly half of the e-commerce market in the United States, a staggering figure that will make it nearly eight times bigger than the next biggest e-commerce company.
A new report from eMarkerter says Amazon's sales should reach $258.2 billion this year, CNBC reports. That would mark a nearly 30 percent jump from last year, during which Amazon controlled 44 percent of the e-commerce market. If the projections hold, Amazon would control 49.1 percent of the entire e-commerce market, putting it well ahead of eBay, the second largest e-commerce company with 6.6 percent of the market. Apple (3.9 percent), Walmart (3.7 percent) and Home Depot (1.5 percent), round out the top five.
As for how Amazon continues to increase it hold on e-commerce, the gains are coming largely in its marketplace, where third-party sellers sell to consumers. Sales on the marketplace will be more than double Amazon's direct sales by year's end and will continue outpacing direct sales in 2019. The company's biggest category? Consumer electronics, many of which are likely to be on sale during Amazon's Prime Day bonanza.