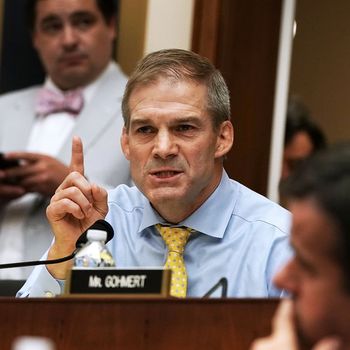 Jim Jordan claims he had no idea an Ohio State team doctor was sexually abusing athletes.
Photo: Alex Wong/Getty Images
Ohio congressman Jim Jordan, the co-founder of the Freedom Caucus and a Trump booster who has spent the last few weeks denying any role in an ugly Ohio State sex-abuse scandal, is launching a bid to succeed Paul Ryan as Speaker of the House, he said Thursday.
"Should the American people entrust us with the majority again in the 116th Congress, I plan to run for Speaker of the House to bring real change to the House of Representatives," Jordan wrote in a letter to colleagues that was delivered Thursday.
His announcement sets up a compelling fight for the Speakership should Republicans retain the House after November's elections. Already, California representative Kevin McCarthy has said he intends to make a bid for the job, and he's got at least one prominent backer. Asked Thursday if he could support Jordan for speaker, Ryan said, "I'm not going to be here. I support Kevin McCarthy. Everybody knows that."
Jordan's bid for House Speaker will no doubt be complicated by the ongoing sex scandal in Columbus, where more than 100 former students have accused an Ohio State professor and team doctor of sexual abuse. Jordan, a former wrestling coach at the school, was pulled into the story after he was accused of knowing about the the doctor's abuse and failing to do anything to stop it.
Taking a page from Donald Trump's playbook, Jordan has denied everything and won Trump's support in the process. "I believe him. Jim Jordan is one of the most outstanding people I've met since I've been in Washington," Trump said in early July. "I believe him 100 percent. No question in my mind. I believe Jim Jordan 100 percent. He's an outstanding man."
Jordan, founder of the House Freedom Caucus, is beloved by the Trump-aligned conservative wing of the GOP, and on Wednesday, he showed why. Along with Representative Mark Meadows, Jordan introduced articles of impeachment against Deputy Attorney General Rod Rosenstein. If he didn't already have President Trump's support for his Speaker run, he's a bit closer now.
But it remains to be seen what role the Ohio State scandal will play in his attempt to climb the ranks of party leadership. Just ahead of his announcement on Thursday, Jordan was asked if the scandal might trip up his bid. He told NBC News that "he has talked to all kinds of colleagues and they can all see through that story."
The implication seems to be that all of the wrestlers who have said Jordan knew about Richard Strauss's abuse are part of a deep-state conspiracy, as Jordan has claimed, and that his Republican colleagues know that.