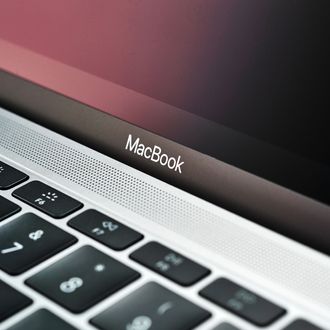 Photo: Neil Godwin/T3 Magazine via Getty Images
Have you been holding on to your dying, years-old MacBook Air in the hopes that something newer and better and cheaper might be coming along soon? You're still going to need to hold on a bit longer, but if the latest batch of Apple rumors are to be believed, the end is in sight for you. According to an investors' note shared by Apple analyst Ming-Chi Kuo, Apple is getting ready to roll out a number of hardware refreshes by the end of 2018, MacRumors reports.
From MacRumors:
Kuo believes Apple is designing a new low-priced notebook. He originally said that this would be in the MacBook Air family, but now has changed his mind. Previous rumors have suggested this machine could be a 12-inch MacBook, so Apple may be planning to expand the MacBook lineup with an additional low-cost option to replace the MacBook Air.
Other updates include an updated Mac Mini, which hasn't seen any changes in over three years, and two new Apple Watches with "bigger displays and enhanced heart rate detection features." There's also talk of three new iPhones. All three phones will reportedly come with Face ID. Which, fine, but this also means that all three will be Animoji ready. Which is way more fun.