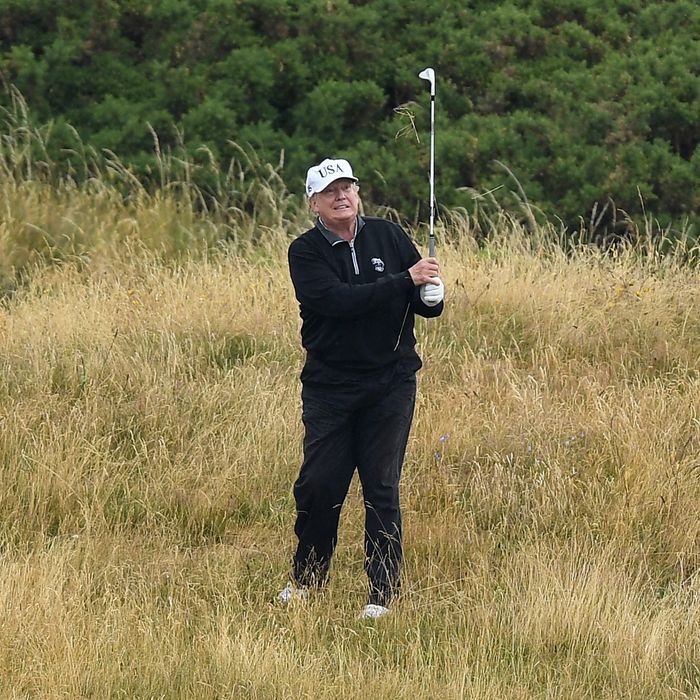 In the rough.
Photo: Leon Neal/Getty Images
A 55-year-old man has been arrested in connection with an airborne protest that momentarily interrupted President Trump's attempt to promote his unprofitable golf resort in Scotland over the weekend. On Friday night, a paraglider violated the no-fly zone around the Trump Turnberry resort in Ayrshire and buzzed the president and his hotel with a Greenpeace banner that said Trump was "well below par." The flying insult did not impress Scottish authorities, who launched a manhunt for the pilot and warned that he was lucky he wasn't killed by snipers on top of the hotel. Trump was whisked inside as the paraglider approached, but he probably still got the message. About 36 hours afterward, Scottish police announced an arrest.
The president and first lady spent a private leg of their Europe trip at Trump Turnberry over the weekend in what was undoubtedly a long-awaited visit — and marketing opportunity. As of Sunday, the former reality television star has visited Trump-branded properties on 170 days of his presidency, but this weekend was his first chance to visit and boost Turnberry, which has not turned a profit since Trump bought and started renovating the resort in 2014. (There have also been questions about where Trump got the hundreds of millions of dollars to do so.)
Trump has repeatedly plugged Turnberry while on his high-profile, taxpayer-funded trip to Europe, calling the 112-year-old resort a "magical place" before leaving a NATO summit in Brussels on Thursday, then referencing it again during a Friday news conference with British prime minister Theresa May. In the latter instance, the president recalled his trip to christen the Trump-rebranded resort in 2016, which was one of his many attempts to leverage the earned media of his presidential campaign for his company's gain. Arriving the day after the U.K.'s stunning Brexit referendum vote, Trump focused much more on the resort than Britain's suddenly uncertain future, and even emphasized that if the Brexit vote weakened the pound, it would be good for business at Turnberry.
On Saturday, Trump celebrated Turnberry again in a tweet, calling the resort an "incredible" place before hitting the links to get in some "exercise" via a forbidden golf cart (though he encountered protesters on the course as well). The president had said he would be focusing on meetings and calls at the resort, but that's typically just code for more golf.
Trump's son Eric, who took over operations at the Trump Organization from his dad, also visited the resort over the weekend and shared a panoramic video of a bagpiper taken from Turnberry's $1,600-a-night lighthouse around the time the elder Trump was arriving in Scotland. Eric's Trump-branded jet was also visible on the tarmac when Air Force Once landed in Glasgow on Friday night.
President Trump handed over control of his company to his sons before he took office, but never divested himself from the business, alarming ethics watchdogs. With that in mind, it is very likely that Trump was more focused on boosting his resort's revenues than supporting America's most important ally during his Europe trip, particularly since the news highlight of the state visit was the president's attack on May during an interview with a Trump-friendly tabloid. According to Politico, "One former adviser noted that the Scotland and England portions of the trip were meant to entice Trump to even attend the NATO Summit in Brussels, which he approached with dread, like a dessert he earned after eating his vegetables." Speaking with the New York Times, Norman L. Eisen, the chairman of Citizens for Responsibility and Ethics, said that he viewed the Turnberry visit "as kind of a forced subsidy of an infomercial for his properties."
Trump's weekend visit is expected to cost Scottish police as much as £5 million, though they will be reimbursed by the U.K. government. It's not clear how much this particular trip will cost U.S. taxpayers,
Unfortunately for the Trumps, there is little reason to presume the presidential publicity will pay off for Turnberry, since the name has become toxic to many around the world. Trump's other Scottish golf resort in Aberdeen has also been losing millions, and Trump has regularly faced off against Scottish residents and politicians over his renovation plans for both properties. His vocal support for Brexit — which Scotland voted against — isn't making him any more popular there either. It is also unlikely that Trump or his family will be able to lure the British Open to Turnberry, as the head of the Open's governing body has already ruled it out while Trump is in office, citing the complexity of the "ownership issue of the course and the staging there."
Trump got in another round of golf at Turnberry on Sunday morning before leaving Scotland to meet Vladimir Putin in Helsinki, where the only Trump-branded entity with questionable value will be the president himself.