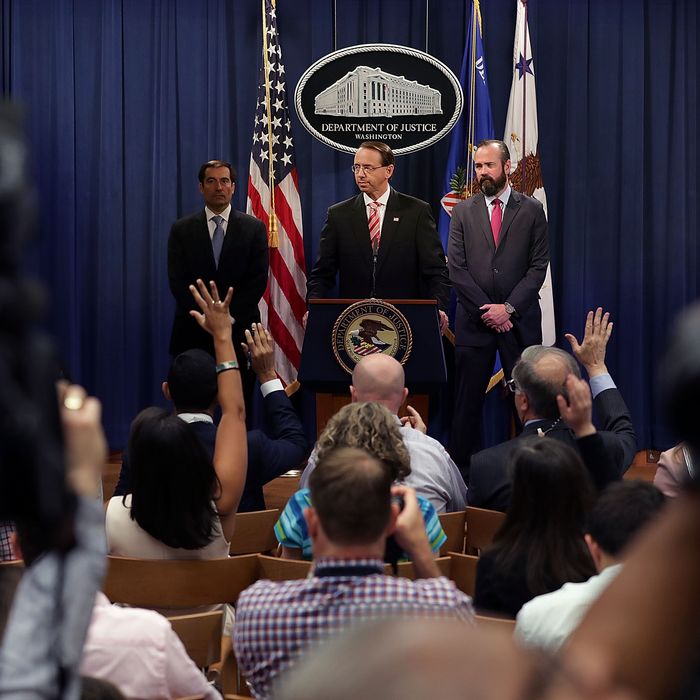 Deputy Attorney General Rod Rosenstein, the man who gave Donald Trump the justification for firing James Comey, is now a prime target of Trump's closest friends in Congress.
Photo: Chip Somodevilla/Getty Images
It's been a pretty crummy week or so for the president, what with the fallout from Helsinki and now a leaked tape of Trump talking about hush money with Michael Cohen before his election. Perhaps to cheer him up, Trump's closest congressional allies are stepping up their efforts to turn the tables and mess with his tormenters in the Justice Department, the intelligence agencies, and the special counsel's office. House Freedom Caucus leaders Mark Meadows and Jim Jordan have formally introduced articles of impeachment against Robert Mueller's supervisor, Deputy Attorney General Rod Rosenstein.
The right-wing litany of fury about Rosenstein seems to vacillate between accusing him of being an agent in a deep-state conspiracy to frame Trump, or simply helping cover up said conspiracy. The most immediate demand that he has ignored seems to be that he should step aside from the Mueller investigation altogether, as The Hill reports:
They charge that Rosenstein has a conflict of interest in Mueller's probe, stating that he is a "witness" that could be called in the ongoing investigation into potential abuse since he signed off on an FBI surveillance renewal application to wiretap Carter Page, a former adviser to the Trump campaign.
In the version of events that House Republicans have been flogging, Page is a victim of a deep state/Obama hit job on the Trump campaign, and Rosenstein is complicit in it. Meadows and Jordan have a secondary gripe: their contention that Rosenstein is flouting their subpoenas, and they profess to have reached the end of their patience in a meeting with DOJ folk today that other Republican members present seemed to find satisfactory:.
"The DOJ is keeping information from Congress. Enough is enough," Jordan said in a statement. "It's time to hold Mr. Rosenstein accountable for blocking Congress's constitutional oversight role."
And so, the man who first drew the public's notice by offering the president the justification for firing James Comey is now right down there with Comey in MAGA hell.
It's unclear how much support this maneuver has from other House Republicans, much less from Paul Ryan. One clue is that the articles of impeachment were introduced on the eve of a five-week House recess, and were not advanced as a "privileged motion" involving urgent House priorities that might have triggered a quick vote. On the other hand, it's hard to imagine that they took this course of action without at least a tacit green light from the White House. It's most likely that the whole gesture is just part of an effort to ratchet up the pressure on Rosenstein and the DOJ to play along with their conspiracy theories, or perhaps to undermine Mueller by discrediting Rosenstein. Should Trump at some point decide to just get rid of the deputy AG, being able to say he was the target of a real live impeachment effort might be handy. It should go without saying that even if the House impeached Rosenstein, there's no way the Senate would come up with the two-thirds margin necessary to make him the first non-presidential Executive branch official since Ulysses Grant's corrupt Secretary of War William Belknap to be removed from his position by Congress.
Maybe Meadows and Jordan simply wanted to make sure the first serious talk of impeachment in the House would be about someone other than the president. In that case, taking this step before the midterm elections makes some sense.