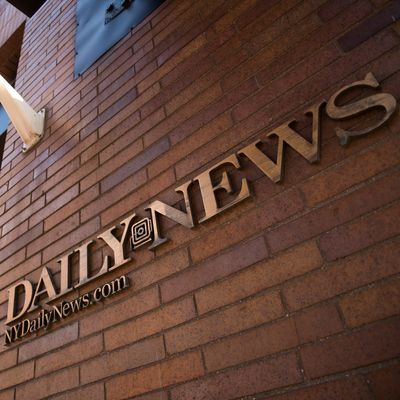 A brutal day at 4 New York Plaza.
Photo: Drew Angerer/Getty Images
On Sunday night, Daily News staffers received an email mandating that everyone be at the office at 9 a.m. Given the circumstances, it was not hard to discern what was about to happen. Amid rumors and reporting, staffers at the almost century-old tabloid had for days been bracing for severe cuts from Tronc, the media conglomerate that bought the paper from Mortimer Zuckerman for $1 last year. And Monday's meeting was preceded by an ominous tweet from the paper's editor-in-chief, Jim Rich.
At the appointed hour, Tronc executive Grant Whitmore confirmed employees' worst fears. Speaking for less than one minute, he informed those in attendance that dozens of staffers would be let go, reducing the newsroom total to less than 50 people. Staffers were then brought into conference rooms, where they were informed of their fates — if they were sat down in front of a folder, it was bad news. Whether they had been at the company for six months or 15 years, laid-off employees were uniformly offered the same severance deal: 90 days of pay, with the possibility of transitional benefits after that. The paper's sport section was slashed from 35 people to nine. Its social media team was eliminated altogether, as was its archival library.
Rich was among those to get the ax. He will be replaced on July 30 by Robert York, who currently heads the Morning Call, Tronc's newspaper in Allentown, Pennsylvania.
In a memo from Tronc to staff, the company said it was "reducing today the size of the editorial team by approximately 50 percent and re-focusing much of our talent on breaking news — especially in areas of crime, civil justice and public responsibility."
Some of those who had been let go lingered after receiving the news, and there was plenty of hugging and crying in an office that has grown smaller and more tightly knit in the wake of previous cutbacks, including especially harsh ones in 2015.
Many people then repaired to a bar, leaving behind a shell-shocked newsroom.
The cuts are the latest blow in a long fall from grace for a publication where circulation soared to 2 million during the 1940s, and which has served as a worthy, working-class rival to the New York Post for decades. According to the New York Times, the News' circulation has dwindled to around 200,000 in recent years, with its digital products reaching 23 million people. It is now left without reporters to cover some of the city's signature interests and attractions — for example, there is now no Yankees beat writer or Broadway critic at the paper.
But many people lamented the loss of resources that went into covering stories, some routine, some sensational — about crime, waste, fraud, and abuses of power — in other words, the meat and potatoes of a style of local journalism that finds itself increasingly endangered.
Tronc's newfound focus on "breaking news," meanwhile, rang false to those who pointed out that the Daily News is, in fact, pretty good at doing just that.
"That part pissed me off," said Sarah Ryley, who worked as an investigative journalist at the News from 2012–2017, winning a Pulitzer Prize in public service there last year. "I don't think Tronc understands what it truly means to cover breaking news as a local newspaper, instead of getting tweets and clicks from people in Florida who want to read about the next weird crime story.
"The Post has its way of covering things, the Times very much picks and chooses," she continued. "The one outlet in this city that has always been going full force on breaking news, more than any other in the city, is the Daily News. Not a single reporter did not have breaking-news duties. Pretty much every reporter had to file one, often times several breaking news stories a day."
As members of the media and readers mourned on Twitter, both Mayor Bill de Blasio and Governor Andrew Cuomo offered their support. De Blasio called the layoffs a "disaster for NYC"; Cuomo asked Tronc to "reconsider this drastic move" and cited his father, Mario Cuomo, who had helped the New York Post through tough financial times despite ideological differences. The Daily News has veered to the left in recent years, and has recently become known for its pointed covers criticizing President Trump.
Tronc, which recently announced that it would change its name back to Tribune Company after years of ridicule, has left a trail of destruction at many of the newspapers it has acquired, which have included big names like the Chicago Tribune, Baltimore Sun, and Los Angeles Times. Its effort to modernize its assets for the digital age have often resulted in widespread layoffs, decreased newsroom morale, and a sense that the company prioritizes cheap clicks and profits over traditional journalism.
Staffers at the latter paper, which Tronc recently sold to billionaire Patrick Soon-Shiong, offered their support to the Daily News:
In March, Tronc Chairman Michael Ferro, an enthusiastic proponent of the company's newsroom cuts, stepped down just before allegations of sexual harassment were brought to light. Months earlier, he had entered into an agreement with the company that would pay him $15 million in consulting fees through 2020.