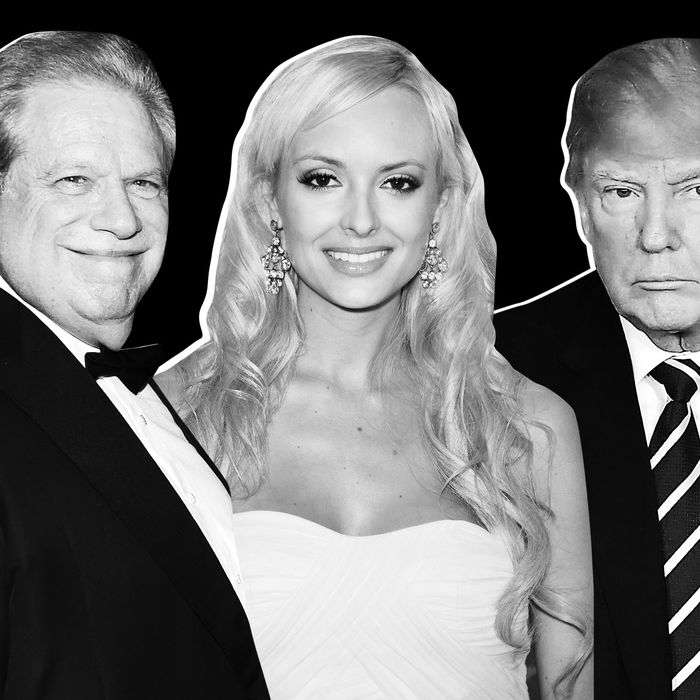 What's really going on between Elliott Broidy, Shera Bechard, and Donald Trump?
Photo: WWD/Rex/Shutterstock; Getty
The strange saga of Republican lobbyist Elliott Broidy and former Playboy Playmate Shera Bechard has taken a particularly strange twist. Broidy signed a nondisclosure agreement with Bechard sometime in late 2017, in which he promised to pay her $1.6 million in eight quarterly installments, in exchange for her silence regarding an affair, and a subsequent pregnancy and abortion.
The existence of this NDA was revealed in April, when The Wall Street Journal ran a story that claimed the affair in question was between Broidy and Bechard. (Broidy released a rather equivocal statement to the Journal, which appeared to admit to this, without ever explicitly doing so.)
I've argued that a great deal of circumstantial evidence points to the affair being between Donald Trump and Bechard, and that Broidy entered into the NDA to silence Bechard as a favor to Trump. Trump, according to this theory, repaid Broidy by agreeing to at least two Oval Office meetings, at which Broidy lobbied for the interests of the United Arab Emirates against the UAE's Gulf state rival Qatar. The UAE then rewarded Broidy's firm with a $600 million defense contract.
Now, after making two of the eight payments — the third was due yesterday — Broidy is backing out of the deal. His reasons for doing so make very little legal or practical sense, at least if you assume Broidy actually did have an affair with Bechard.
Broidy's lawyer in this matter, Chris Clark of Latham & Watkins, is claiming the agreement is "null and void" because Bechard's former lawyer, Keith Davidson (who also represented Stormy Daniels and Karen McDougal, and who has been fired by all three women because they independently concluded that he was colluding with Trump's lawyer, Michael Cohen) improperly disclosed aspects of the NDA to Daniels's current lawyer, Michael Avenatti.
There are several reasons why this argument doesn't appear to make any sense:
• Even if Davidson improperly disclosed information to Avenatti (he denies doing so), such a disclosure wouldn't be legal grounds for voiding the agreement between Broidy and Bechard. Broidy's remedy in this situation would be to sue Davidson for damages, not to unilaterally cancel his agreement with Bechard. After all, there's no allegation that Bechard violated the agreement, and, at the time Davidson allegedly did so, he wasn't even Bechard's lawyer anymore.
• If Broidy is doing this to try to save money, he's making a very odd calculation. He still owes $1.2 million to Bechard, which certainly isn't a trivial sum, even for someone as rich as he appears to be. But using Latham & Watkins to litigate the matter (disclosure: I was once an associate at this firm) would surely eliminate a great deal if not all of any potential savings from not going through with the agreement, even assuming — which at the moment seems highly optimistic — that Broidy would eventually prevail on the merits.
• Chris Clark is a white-collar criminal-defense lawyer. Indeed, Broidy employed Clark when he was prosecuted a decade ago for bribing officials in the New York State comptroller's office (Clark worked out a plea deal, in which Broidy testified against seven officials in exchange for pleading guilty to a single felony charge). Why is Broidy using a criminal-defense specialist to litigate a contract dispute? One possibility here is that Broidy is backing out of the contract on Clark's advice, because the NDA is actually a bribe to Trump, and, by not paying the rest of that bribe, Clark's client would be lessening his criminal liability.
• By claiming that their agreement is void, Broidy is putting Bechard in a position to tell her story — whatever it may actually be — in whatever forum she likes.
I suspect this last point contains a key to understanding why Broidy is trying to back out of the agreement now.  Perhaps like so many other people, Broidy has concluded that Donald Trump is a bad business partner.
Update: After this story appeared, I was contacted by a public relations firm hired by Elliott Broidy. The firm offered the following comment from Chris Clark:
"I've been Elliott's lawyer for years on a wide variety of topics and this agreement was not on anyone else's behalf."
Repeated attempts on my part to get Broidy to go on the record with a statement that he had a sexual affair with Shera Bechard have failed to elicit any such statement from either Broidy himself or his representatives.