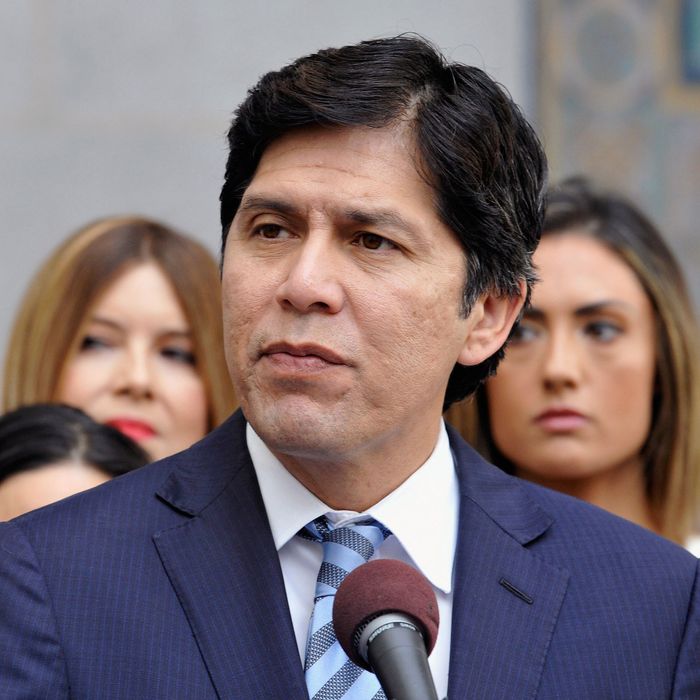 California Democrats toss Kevin de León a lifeline, but he's still a very long shot in November.
Photo: Michael Tullberg/Getty Images
In a move that could save a progressive challenge to U.S. senator Dianne Feinstein from oblivion, the executive committee of the California Democratic Party gave an endorsement to state Senate majority leader Kevin de León, who faces Feinstein in the November general election under the state's top-two system. De León fell short of the 60 percent of the vote needed for an endorsement at the state Democratic convention in February. But he won 65 percent in his second bite at the apple over the weekend. Twenty-eight percent of executive committee members complied with Feinstein's plea for party neutrality in the Democrat-versus-Democrat race, and another 7 percent voted to endorse the incumbent.
The idea that this was some sort of "shocking" repudiation of a veteran politician or a sign that California Democrats have gone off the deep end is not terribly accurate. Feinstein has never been popular with party activists, dating back at least to the moment in 1990 when she baited progressives at a state party convention with a fiery speech supporting the death penalty. Away in Washington, she hasn't had the opportunity to surf the leftward-leaning Zeitgeist of California Democrats as de León has; he has solid labor support in addition to the affection of former Sandernista single-payer fans. Feinstein's reasonably strong public standing as she seeks a fifth full term in the Senate is based, to a considerable extent, on a history of ideological independence from her party's base. With no Republican on the ballot in November in this race, it might not hurt Feinstein all that much to be rebuked by "the left."
Still, the action was a real lifeline for de León, who was in danger of vanishing from the political landscape due to a lack of money and media attention. He won only 12 percent of the vote in the June primary (compared to 44 percent for Feinstein, and another 44 percent scattered among the other 30 candidates on the nonpartisan ballot), which was enough to make the top two and thus the general election, but not exactly a sign of strength. At this point Feinstein has an estimated ten-to-one funding advantage. As the party endorsee, de León will benefit from heavily distributed endorsement mailers and flyers, and a shot at joint fundraising appeals. And he will be in a position to depict himself as something other than an insurgent protest candidate (as indeed he should be able to do as the top-ranking Democratic legislator in Sacramento).
De León could also benefit from support from his fellow Latinos, who turned out very poorly in the primary but should vote in more representative numbers in November. A real wild card is the voting behavior of Republicans, who may think of Feinstein as an ancient partisan foe rather than as a relatively attractive "centrist." In the previous all-Democratic Senate general election in California, in 2016, self-identified "centrist" Loretta Sanchez counted on heavy crossover support from Republicans in her battle with progressive favorite Kamala Harris, but it never materialized.
One key thing to watch in this race going forward is the possible effect of (and on) the high-profile confirmation hearings for Supreme Court nominee Brett Kavanaugh, in which Feinstein, as ranking Democrat on the Judiciary Committee, will have a very visible role. De León is arguing that Democrats ought to "shut the Senate down" (presumably via some maneuver to deny Republicans a quorum) to stop Kavanaugh. So both Democratic and Republican voters will be watching Feinstein closely in those hearings, which could also, for better or for worse, demonstrate whether the 85-year-old incumbent appears to have the acuity and stamina for another six years in the Senate. Now as before, it's Dianne Feinstein's race to lose, but she cannot afford too many mistakes.