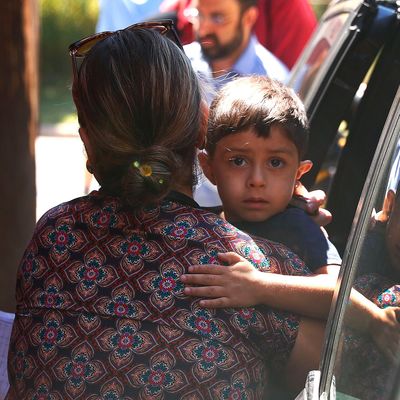 A child from Honduras is brought to the ICE office in Grand Rapids, Michigan to be reunited with his father on July 10, 2018.
Photo: Paul Sancya/AP/REX/Shutterstock/Paul Sancya/AP/REX/Shutterstock
Faced with a court-ordered deadline to return young migrant children to their parents on Tuesday, the Trump administration said the reunited migrant families would be released into the United States, with the parents wearing ankle monitors. The announcement was an acknowledgement that the administration is returning to the "catch and release" policy Trump often rails against, but legal and logistical efforts currently underway may soon allow for harsher policies.
U.S. District Court Judge Dana Sabraw gave the Trump administration just two weeks to return separated children under 5 to their parents, and 30 days to reunite the several thousand older children in the government's custody. Despite Sabraw's warning that these were "firm deadlines," not "aspirational goals," on Tuesday only 38 of the 102 younger children had been returned to their families. The government argued that it needed more time for background checks to confirm that the parents are not a danger to the children.
A hearing is set for later this week to discuss how the administration plans to meet the July 26 deadline. The L.A. Times reported that the administration was unclear on whether the parents of older children would be released with ankle monitors as well (the New York Times said "hundreds of migrant families" would get ankle monitors, implying other migrant parents would receive similar treatment).
Federal officials said they had no choice but to allow the families into the U.S. to await immigration proceedings — a process that could take years — because they can't legally detain migrant children for more than 20 days, and they don't have the facilities to detain thousands of families.
"Parents with children under the age of 5 are being reunited with their children and then released and enrolled into an alternative detention program," Matthew Albence, Immigration and Customs Enforcement's executive associate director of enforcement and removal operations, told reporters.
When asked about the situation earlier on Tuesday, Trump offered a broad, simplistic answer that falsely suggested all the detained migrants have no legal right to seek asylum in the U.S. "Tell people not to come to our country illegally," Trump told reporters. "That's the solution. Don't come to our country illegally. Come like other people do. Come legally."
The Justice Department has confusingly insisted that the "zero tolerance" immigration policy — which called for prosecuting all adults who enter the U.S. illegally, sparking the family separations — is still in effect, though officials also say they're no longer referring migrant adults who enter with children for prosecution.
Katie Waldman, a spokeswoman for the Department of Homeland Security, told reporters on Tuesday that the return to "catch and release" is unfortunate, and will serve "as a pull factor for increased future illegal immigration." She added, "D.H.S. will continue to work with Congress to find a solution to this problem."
It's hard to say when "catch and release" begins and ends because, as Vox explains, the Trump White House applies the label to any policy that prevents everyone who crosses the border without papers from being detained and quickly deported. Trump already issued a vague memorandum directing his administration to end "catch and release" (which like many of Trump's favorite immigration phrases, likens migrants to animals) on April 6, the same day that Attorney General Jeff Sessions announced the "zero tolerance" policy.
While Trump now blames Democrats for the concept of releasing unauthorized immigrants while they await immigration hearings, the phrase was coined during the George W. Bush administration. It then became a popular attack against Barack Obama's directive prioritizing the deportation of criminals or people who recently crossed the border, rather than law-abiding undocumented immigrants.
Days after taking office, Trump said anyone in the U.S. without authorization was a priority for deportation, and directed Customs and Border Protection to detain every unauthorized immigrant caught crossing the border until their case was resolved. Aside from not being practically possible, there are legal protections that keep people who fall into certain categories — like minors, asylum seekers, and families apprehended together — from being locked up and swiftly ejected from the U.S. However, as Vox's Dara Lind notes, Trump doesn't make that distinction:
Trump, as is his wont, treats "catch and release" as an act of obvious stupidity or willful blindness — or even an act of sabotage, with Democrats serving as a fifth column to aid and abet the invading horde. But the "loopholes" aren't accidents. They were placed there because Congress and the courts decided that children and families shouldn't be detained indefinitely, and that those fleeing persecution should be treated as potential victims rather than presumed criminals. They decided, in other words, that some people deserve particular mercy: to be caught and processed but, in the meantime, released.
Though there are alternatives to detention — like using ankle monitors or community supervision — that have proven to be successful and cost-effective, the Trump administration is focused primarily on locking migrants up. When Trump issued an executive order last month ending the family separation policy, he said the new policy would be to "maintain family unity, including by detaining alien families together."
Brandon Judd, the head of the union representing border patrol agents, said that since deportation proceedings take about six to nine months, "It's impossible to not separate the family unless the catch-and-release policy takes hold again."
But the Trump administration has been working to change this, drawing up plans for how to house thousands of migrant families and unaccompanied minors. The Justice Department also fought to modify the 1997 Flores court settlement, which says migrant children can't be kept in custody for more than 20 days.
A federal judge rejected the effort to allow longer detentions on Monday, calling the proposal a "cynical attempt" to shift immigration policy-making to the courts after "over 20 years of congressional inaction and ill-considered executive action that have led to the current stalemate."
But the ruling said that in some cases, the government can force migrant parents to choose between being detained with their children indefinitely, or separating from their children, remaining in custody while the minors are put in the care of HHS, and eventually placed with another adult in the U.S.
The judge noted that this still "does not support a blanket non-release policy," and there's nothing keeping the Trump administration from going back to detention alternatives for families. But the government's response ignored that point.
"The court does appear to acknowledge that parents who cross the border will not be released and must choose between remaining in family custody with their children pending immigration proceedings or requesting separation from their children so the child may be placed with a sponsor," Justice Department spokesman Devin O'Malley said in a statement.
Trump officials may have been forced to revert to less harsh policies toward migrant families, but they've given every indication that they think it's only temporary.