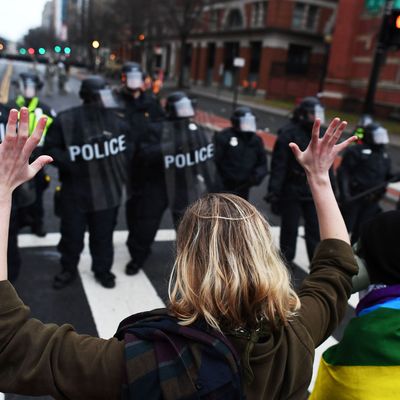 Inauguration Day protests in January of 2017.
Photo: Jewel Samad/AFP/Getty Images
Federal prosecutors dropped all charges against the 38 remaining defendants arrested and charged with rioting during the Disrupt J20 protests on Donald Trump's Inauguration Day. The dismissal brings an end to the nearly 18-month saga that saw 234 protesters threatened with as much as 60 years in prison for their alleged roles in the destruction of property on January 20, 2017.
In the end, 21 people charged for their roles in the protests pleaded guilty. But prosecutors failed to get a single conviction for those cases that went in front of a jury. In a statement, the U.S. Attorney's office in D.C. said "the results in the cases brought to trial" has led it to drop the charges against the remaining defendants.
The dismissal comes more than six months since the first six J20 defendants were cleared of charges, after prosecutors were unable to provide any evidence that the people on trial played a role in the property destruction. They said those protesters should be convicted anyway.
"Obviously it's a huge relief to have these charges dropped after an 18-month nightmare," Michael A. Webermann, whose charges were dropped Friday, told HuffPost's Ryan J. Reilly. "However, it's hard not to feel cynical about the enormous amount of power that prosecutors have to overcharge people, disrupt their lives, and then drop cases before having to face any consequences in court."