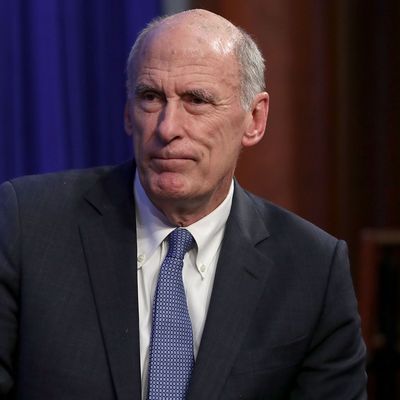 When he really "goes rogue," you'll know it.
Photo: Chip Somodevilla/Getty Images
In the aftermath of President Trump's disastrous performance at his summit with Vladimir Putin on Monday, familiar patterns have emerged. Anonymous White House staffers told Politico that White House morale is now even lower than it was after the last scandal, and some are eyeing the exits — though no one seems interested in resigning in protest. Top Trump aides tried to stake out a position that didn't anger their boss, yet was still somewhat fact-based and inoffensive.
This is a nearly impossible task. For instance, at the Aspen Security Forum on Thursday, Homeland Security Secretary Kirstjen Nielsen refused to say she agrees with the U.S. intelligence agencies' conclusion that Russia's meddling was meant to aid Trump. Then she listed white supremacist violence, Russia election interference, and the Syrian civil war as three examples of situations where you don't know where to place blame.
"I think what we have seen on the foreign influence side is that they were attempting to intervene and cause chaos on both sides, whether it's in Charlottesville — both sides — whether it's in Syria — both sides," Nielsen said.
But one administration official decided not to follow this script — and now there's speculation that he may face consequences for not bolstering Trump's fictions.
The president mentioned Director of National Intelligence Dan Coats by name on Monday when appearing to explain that he trusts Putin over U.S. intelligence officials who say Russia tried to meddle in the 2016 election, and has continued those efforts.
"My people came to me, Dan Coats came to me, some others, they said they think it's Russia," Trump said in Helsinki. "I have President Putin. He just said it's not Russia. I will say this, I don't see any reason why it would be."
Hours later, Coats issued a brief rebuttal. "We have been clear in our assessments of Russian meddling in the 2016 election and their ongoing, pervasive efforts to undermine our democracy, and we will continue to provide unvarnished and objective intelligence in support of our national security," he said.
The next day Trump offered a weak excuse (claiming he was tripped up by a double negative), but according to the Washington Post, administration officials were so concerned that Coats might resign over the incident that they urged Trump to praise him by name in a subsequent interview. Somewhat surprisingly, Trump complied:
After Coats indirectly rebuked Trump's Helsinki performance on Monday, senior administration officials were concerned that the intelligence director could perhaps resign and so implored Trump to reassure Coats and calm the waters. Trump tried to do just that on Wednesday in an interview with CBS Evening News anchor Jeff Glor, singling out Coats by name for praise. A transcript of the president's interview was sent to Coats to ensure the director of national intelligence saw the comments, the senior official said.
But now White House aides are said to be worried about Trump's anger toward Coats after the spy chief doubled down on his stubborn refusal to downplay the intelligence community's findings for the president's political benefit.
During an interview with NBC's Andrea Mitchell at the Aspen Security Forum on Thursday, Coats was asked why he issued a statement on Monday. "I was just doing my job," he said.
"I just felt that at this point in time that what we had assessed and reassessed and reassessed and carefully gone over still stands and that it was important to take that stand on behalf of the intelligence community and on behalf of the American people," he continued.
Coats said that while watching the president side with Putin over him, he felt he needed to "correct the record," adding, "Obviously, I wished he had made a different statement, but I think that now that has been clarified."
Coats might have avoided Trump's ire, as he noted that he'd clarified his position. But then at the end, of the interview, he produced the perfect reaction to the news that Trump has invited Putin to meet him at the White House in the fall.
"Say that again," Coats replied. "Did I hear you?"
Mitchell repeated the news.
"Okaaaay," Coats said. "That's going to be special."
"Coats has gone rogue," one senior White House official told the Post.
The optics are particularly damaging. Coats appears to be laughing at the president, along with an audience of intellectual elites. Plus, since the moment is only 35 seconds long, it's likely to get a lot of play tomorrow on cable news — a venue Trump is obsessed with.
Thus, White House aides are worried that Trump will see the remark as a personal betrayal, which he cares far more about than the scandals that plague many staffers. Axios reported that sources close to Trump are "already speculating about whether Trump ends up firing Coats. Per a source with knowledge, Trump has never had much affection for Coats."
Firing Coats, a respected two-time Republican senator from Indiana who tends to stay out of the headlines, would turn the Helsinki debacle into an even bigger scandal (though it's hard to imagine most Republican lawmakers doing anything to counter Trump).
For what it's worth, Coats suggested that he wants to stay on the job, and the interview wasn't some effort to provoke Trump into firing.
"Are there days when you think, 'Well, what am I doing?' Yeah," he said, when asked if he's ever considered resigning. "But there's lot more days saying, "You know, the mission here is critical. And to be able to be a part of it, be able to feel like you're giving something back to your country — it's a reward … As long as I'm able to have the ability to seek the truth and speak the truth, I'm on board."