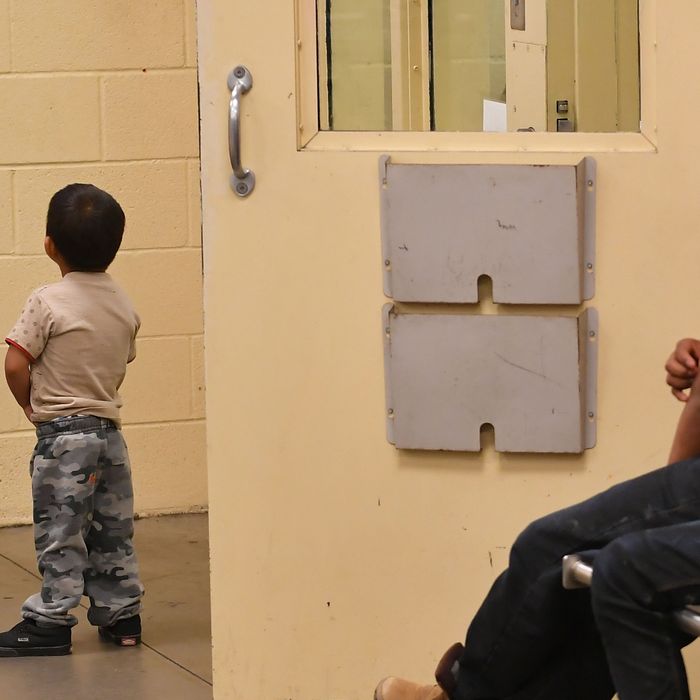 Young migrant boys at the U.S. Customs and Border Protection Facility in Tucson, Arizona.
Photo: Mandel Ngan/AFP/Getty Images
The Department of Health and Human Services is using DNA tests to expedite the reunification of migrant families separated at the U.S.-Mexico border, HHS Secretary Alex Azar told reporters Thursday. But so far, none of the children taken from their parents at the border have been reunited with their families.
Azar insisted that the administration is working to comply with a court order that said children under 5 must be returned to their parents by July 10 and all families must be reunited by July 29. All told, Azar said, slightly fewer than 3,000 children have been taken from their parents.
DNA tests are being used to certify a familial relationship between adult and child, Azar said on Fox News Thursday. "We have to confirm that these are in fact their parents and we have to confirm they're appropriate people to be having custody of these children," he said. "We're doing DNA testing on everybody who claims to be a parent of one of our children to confirm that."
This practice is proof, immigrant advocates say, that the Trump administration did a terrible job tracking where people were going when first separated. "This is a further demonstration of administration's incompetence and admission of guilt, this further drives home the point we've been saying. They never registered parents and children properly," Jennifer K. Falcon, communications director for Texas nonprofit RAICES told CNN.
There are also the issues of how the federal government is obtaining the samples for the tests and what it's doing with the results. When CNN tried to find out, for example, "how long the practice has been taking place, if the testing requires consent and if the DNA is stored in a database," a federal official could not answer the questions.
The matter of consent is especially tricky for children, who'd normally need a parent to sign off on a DNA test. That obviously can't happen here. And when it comes to storing the DNA results, Falcon said she's worried about what the federal government will do with the data. "Potentially, we're trying to solve one civil rights violation with another civil rights violation," she told USA Today last month.