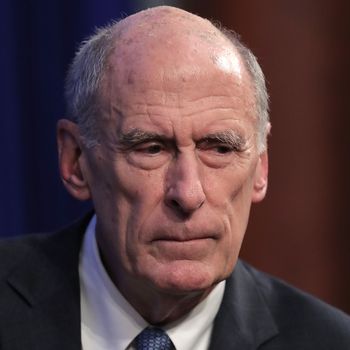 Not welcoming himself to the resistance, apparently.
Photo: Chip Somodevilla/Getty Images
Director of National Intelligence Dan Coats is belatedly trying to re-characterize his amused reaction to hearing the news that President Trump had invited Russian President Vladimir Putin to a second one-on-one summit at the White House. Coats's reaction, during a live interview with Andrea Mitchell at the Aspen Institute's security forum on Thursday, reportedly ticked off Trump and others in the White House, and led to speculation that Coats might soon be fired.
On Saturday, Coats insisted it had all been a misunderstanding. "Some press coverage has mischaracterized my intentions in responding to breaking news presented to me during a live interview," his statement read. "My admittedly awkward response was in no way meant to be disrespectful or criticize the actions of the president."
"I and the entire intel community are committed to providing the best possible intelligence to inform and support President Trump's ongoing efforts to prevent Russian meddling in our upcoming elections, to build strong relationships internationally in order to maintain peace, denuclearize dangerous regimes and protect our nation and our allies," he added.
During his easygoing interview at the security forum on Thursday, Mitchell informed Coats about the White House announcement after it broke, and from how Coats responded, it was clear he had not known beforehand.
"Say that again — did I hear you?" Coats quickly responded with a smile and laughter. Coats jokingly asked again if he had heard her correctly, then took a deep breath and said "okaaay" before deadpanning to a laughing crowd, "that's going to be special."
The president and his allies were far less amused, particularly since Coats has also been a surprisingly public critic — for a member of the Trump administration — of the president's recent Russia-related decisions. On Monday, Coats quickly issued a rebuttal to Trump after the president once again cast doubt on the U.S. intelligence community's conclusion that Russia had interfered in the 2016 presidential election, and on Thursday, he acknowledged that he would have advised against Trump's two-hour-plus private meeting with Putin in Helsinki.
It's not clear how safe Coats's job is, but firing the Director of National Intelligence anytime soon — after Coats pointedly corrected the president's disinformation, and while still in the middle of a well-earned perception crisis over Trump's relationship with Putin — would trigger another collection of negative news cycles for the administration.