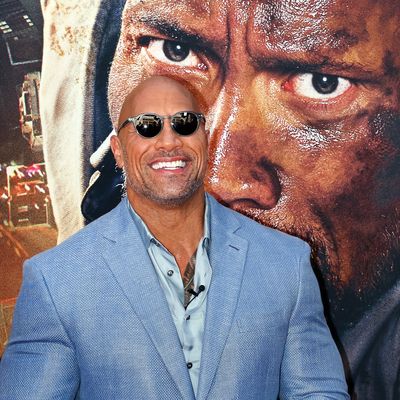 As he warned us earlier, Dwayne Johnson is too busy to deal with running the country.
Photo: Jim Spellman/WireImage
One of America's most intriguing options for a fresh start in these troubled times is now off the table for the immediate future, it seems.
This confirms the warnings the Rock (a.k.a. Dwayne Johnson) was issuing late last year, when he cited the many contractual obligations he has as a movie star and producer from now through 2021 as being incompatible with what he'd need to do to run successfully for president. There are only so many action films you can do in early primary and caucus states. And as Vanity Fair reports, he understands he needs to do some homework before heading onto the campaign trail:
It's a position that requires years of hard work and experience to learn the skills. There's a lot of ground to cover, and due to my schedule, it's not possible in 2020," Johnson said at the New York premiere of his latest movie, Skyscraper, on Tuesday. "I have so much respect for the position. It's something that I seriously considered. What I need is time to go out and learn."
And then he would have a number of practical decisions to make, like his political party affiliation.
That's not to say the idea's a joke: au contraire. A May 2017 survey from Public Policy Polling showed Johnson leading the incumbent in a hypothetical 2020 contest, and enjoying positive favorability ratings among voters from both major parties. A relatively long line of entertainment figures (notably Ronald Reagan, Arnold Schwarzenegger, and you-know-who) have made a successful leap into politics — not to mention his fellow ex-professional wrestler, Jesse Ventura, who served a term as governor of Minnesota. And as I observed last year, Johnson provides a uniquely sharp contrast to Donald Trump in the world of pure celebrity:
Larger than life both physically and metaphorically, Johnson seems an appealing, well-spoken character, perhaps even underrated as an actor. Like a real superhero, he's in constant motion, with movie and TV projects galore. And in the Trump era, The Rock's complete lack of conventional qualifications for the job isn't so daunting. In some respects, he represents the light side of the entertainment planet while the current president of the United States always represented the dark side. The multiracial Californian turned Floridian also looks and sounds like America would like to look and sound (in contrast to the pasty and inarticulate incumbent) if America were an action figure.
Best of all, Johnson has plenty of time to make the transition to politics if he chooses that direction. He's 46 years old, a mere tyke by contemporary political standards. Reagan was 55 when he first ran for public office, and Schwarzenegger was 56. And movies aside, he has tools for keeping his name in the public consciousness — such as 109 million Instagram followers and 13 million Twitter followers — that neither of his predecessors could even imagine. And he would not have any trouble self-financing a campaign: So long as he remains the highest-paid actor in Hollywood, his estimated net worth of $220 million will probably just keep going up.
If his career continues at its current frenetic pace, and he makes no moves that taint his relatively wholesome image, the Rock's potential political prospects remain bright. He will, however, at some point have to clear his schedule if he wants to run for president. Iowans expect some personal attention, and not just from the silver screen.