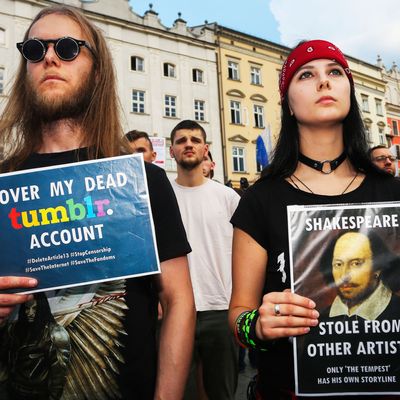 Photo: Beata Zawrzel/NurPhoto via Getty Images
Lawmakers in the European Union have rejected an update to the region's copyright laws, sending them back to the drawing board. The most controversial part of the E.U. Copyright Directive was Article 13, which required that platforms monitor all content uploaded to the internet for potential copyright infringement.
Given the scale of digital media now, such a regulation is clearly unworkable. That's not to say that there isn't rampant copyright infringement online, only that the E.U.'s proposal was not particularly nuanced. In a letter last year, the Electronic Frontier Foundation warned, "Article 13 introduces new obligations on internet service providers that share and store user-generated content, such as video or photo-sharing platforms or even creative writing websites, including obligations to filter uploads to their services. Article 13 appears to provoke such legal uncertainty that online services will have no other option than to monitor, filter and block E.U. citizens' communications if they are to have any chance of staying in business."
So it wasn't great. For meme culture, which is almost entirely reliant on copying and remixing content for different purposes, opponents of Article 13 warned that the so-called "upload filters" threatened to end memes — and the broader internet — as we know it. Hours before the vote, European Wikipedia sites went dark in protest.
The other controversial section was Article 11, which would have instated what has been referred to as a "link tax" to platforms linking to publishers. Really, what we're talking about is Facebook and Google, who have amassed unprecedented power and control over information and its distribution without really giving anything back to publishers financially. The idea of levying a digital version of carriage fees for these platforms is good in theory, but again, the specifics of the law left a lot of room for worry. Julia Reda, a primary critic of these rules, wrote that the rules didn't even specify what sort of links would fall under the tax — there's a difference between a simple hyperlink and the media-rich preview types that Facebook displays.
The proposal is now being reworked and will be voted on again in September.