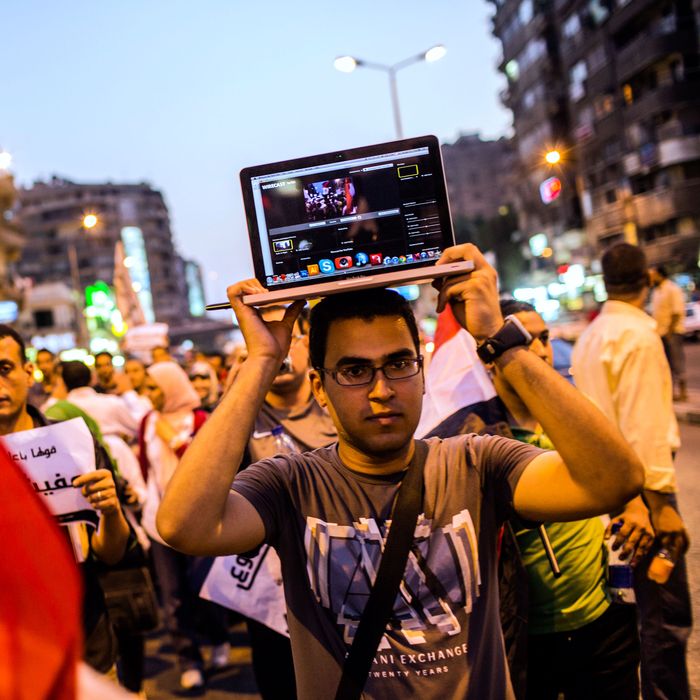 A protester walking with a laptop above his head during the 2012 Tahrir Square protest in Cairo. Social media played a key role in the organization and mobilization of some of Egypt's largest protests.
Photo: Daniel Berehulak/Getty Images
In the same week that Mark Zuckerberg insisted that Facebook should not be in the business of determining what is true and what is false, Egypt's government stepped forward and said, "We will be." Egypt's government media watchdog moved forward with its own anti–fake news legislation, which, unlike Facebook's policies that only remove "fake" content deemed harmful or inciting violence, will give the government sweeping power to remove and ban "fake" content from anyone with more than 5,000 social-media followers.
According to Reuters, the new law, which critics deride as social-media censorship disguised as a fake-news crackdown, will categorize Facebook and Twitter users (as well as blogs and websites) with more than 5,000 followers as media outlets. Designated as a media outlet, popular journalists, activists, and influencers and plain old everyday social-media users will be required to obtain a permit from the government before launching a website.
On Tuesday, Osama Heikal, Egypt's head of Parliament's Media Culture and Antiquities Committee, defended the measure, saying, "Penalties related to crimes of inciting violence, promoting discrimination between citizens or impinging their honor shall be regulated by law."
The bill awaits the signature of Egypt's president, Abdel Fattah el-Sisi, who will directly choose the media regulator responsible for determining what counts as fake news. While the government already possessed the ability to censor large media companies before, this new law would dramatically increase those affected. Even everyday social-media users who happen to attract a following of over 5,000 people could face penalties for spreading fake news, which could have a disastrous effect on freedom of expression.
Making matters worse, the Egyptian bill does not elaborate just what the term "fake news" really means. Critics, like Sherif Mansour of the Committee to Protect Journalists, fear that the law's unclear language will allow government abuse.
The Egyptian government has shown its willingness to subdue media under fake news and terrorism pretenses before. The Press Freedom Index, which ranks countries based on the level of freedom available to journalists, lists Egypt at an abysmal 161 out of 180. Even worse, the government reportedly blocked nearly 500 websites last year for allegedly supporting terrorism or spreading fake news.
This new law demonstrates the extreme, but not unheard of, potential dangers of policing fake news. In an interview with Recode this week, Mark Zuckerberg explained his internal conflict with banning fake news.
"It's hard to impugn intent and to understand the intent. I just think, as abhorrent as some of those examples are, I think the reality is also that I get things wrong when I speak publicly. I'm sure you do. I'm sure a lot of leaders and public figures we respect do too, and I just don't think that it is the right thing to say, "We're going to take someone off the platform if they get things wrong, even multiple times."