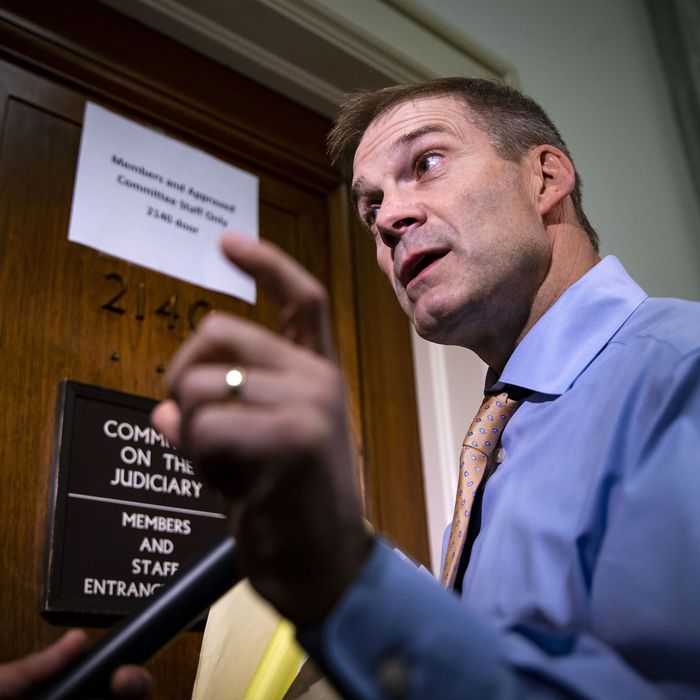 Jim Jordan.
Photo: Al Drago/Bloomberg via Getty Images
An eighth former OSU wrestler now says that congressman Jim Jordan knew that a team doctor was sexually preying on students during his tenure as assistant wrestling coach at Ohio State University.
In recent weeks, several other former OSU wrestlers — including the Ultimate Fighting Championship star Mark Coleman — have publicly claimed that Jordan was aware of allegations that OSU medical doctor Richard Strauss had fondled the genitalia of wrestling team members. The powerful House Republican responded last week by deriding the men he had once coached as liars, and possible agents of a "deep state" conspiracy against true conservatives throughout the elected government.
Those remarks apparently inspired another former OSU wrestler to tell CNN Tuesday, "Jordan is denying this because obviously it would be political suicide for him. He's still denying it. Jim Jordan knew. He didn't do anything about it."
The ex-wrestler, who chose to make his allegation anonymously, said that he had personally told Jordan, "Strauss held my balls longer than normal," and that Jordan "just snickered." He further recalled telling Jordan "something to the effect of 'his hands are cold as s**t; he checked out every hair on my ball,'" and the assistant coach replying, "I have nothing to do with this," and then walking away.
Strauss killed himself in 2005. OSU recently launched an investigation into the allegations that have been made against him.
Several former OSU coaches released a joint statement defending Jordan on Monday. "We all worked on the wrestling coaching staff during Jim's tenure at The Ohio State University. None of us saw or heard of abuse of OSU wrestlers," the statement read. "The well-being of student-athletes was all of our concern. If we had heard of any abuse, we would have spoken up."
President Trump said of the alleged sexual-abuse victims last week, "I don't believe them at all," adding, "No question in my mind. I believe Jim Jordan 100 percent."