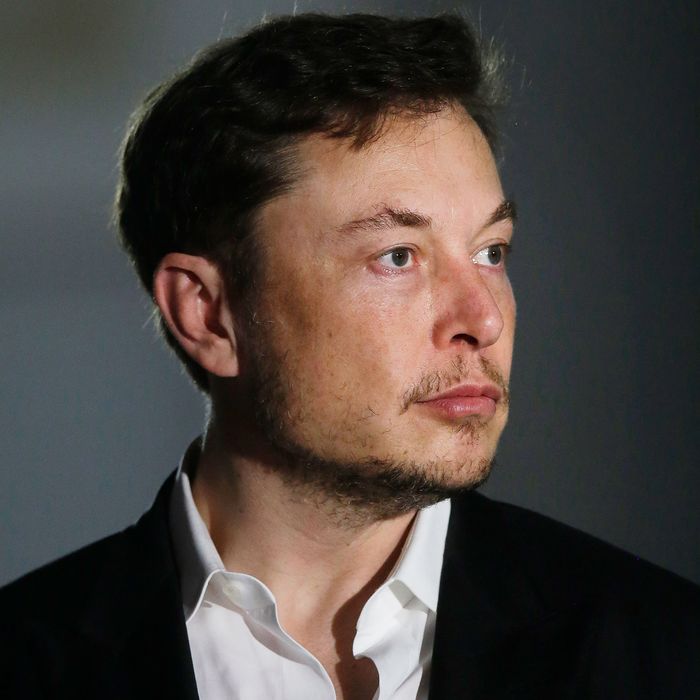 Elon Musk.
Photo: Joshua Lott/Getty Images
Elon Musk did not actually play much of a role in the saving of the 12 Thai soccer players and their coach who were trapped in the Tham Luang cave for days, but you wouldn't know that based on the number of times his name has been, and continues to be, in headlines about the rescue. Upon news of the entrapment, Musk — who was so kind to keep us all nice and up-to-date on Twitter — launched into the very vocal process of attempting to build a mini-submarine out of rocket parts that could be used to get the boys outside of the cave safely. He tested it in a pool in California and then brought it to Thailand, where the head of the rescue operation, Narongsak Osatanakorn, tactfully said it would not be helpful to the mission: "Although his technology is good and sophisticated it's not practical for this mission."
British cave diver Vern Unsworth — who did play a significant role in the rescue — was a bit more honest, calling Musk's actions a "PR stunt." Which Musk clearly didn't appreciate since he, in a now-deleted tweet, called Unsworth a pedophile. "We will make one (video) of the mini-sub/pod going all the way to Cave 5 no problem. Sorry pedo guy, you really did ask for it," Musk tweeted. (Unsworth would not comment on whether or not he is pursuing legal action against the Tesla founder, Reuters reports.)
Musk seems to have realized that he should probably not have called a legitimate hero a "pedo" to his millions of followers. "My words were spoken in anger after Mr. Unsworth said several untruths & suggested I engage in a sexual act with the mini-sub, which had been built as an act of kindness & according to specifications from the dive team leader," Musk wrote in another tweet. (The "sexual act" Musk was so offended by was Unsworth suggesting that Musk stick his submarine "where it hurts.")
"I am aware of his apology, and no further comment," Unsworth said. Now that that's over, Musk can go back to donating to seven times as many Republican causes as he does Democrat ones, as the HuffPost just reported he did in the last election cycle.