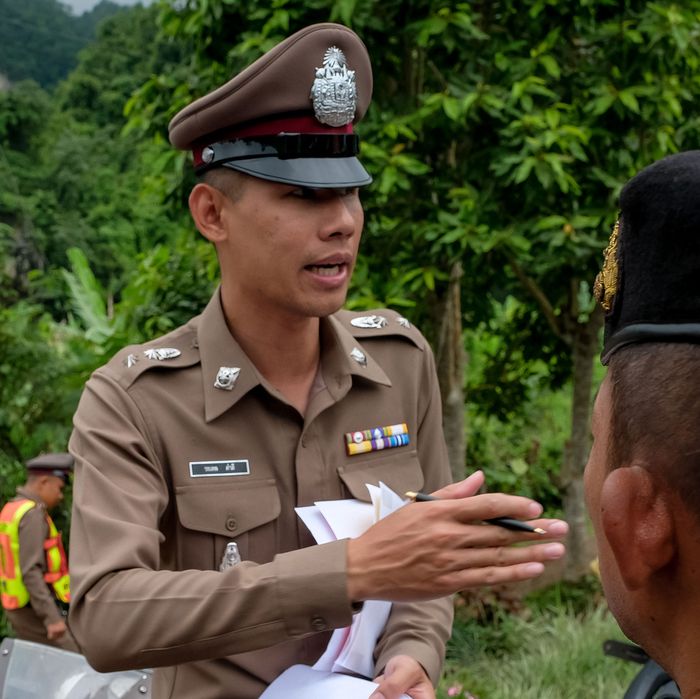 Photo: Linh Pham/Getty Images
As of Tuesday morning, all 12 soccer players and their coach trapped inside the Tham Luang cave have been rescued. They made their way out by scuba diving through miles of tight passages — the narrowest point was just 15 inches — under the supervision of elite cave divers swimming in front and behind. Note that nowhere in that description is any mention of a mini-submarine built from rocket parts by one Elon Musk. Following news of the emergency, Musk announced that he'd be working on a "tiny, kid-size submarine" that would, in theory, work as a sort of escape pod in which the boys could be floated out of the cave. He posted videos of his team testing the device in a pool in California.
Narongsak Osatanakorn, the head of the Thai rescue operation, said the sub would not be used in the rescue, The Guardian reports, mostly because it wasn't the right tool for the job. Osatanakorn, to his credit, was incredibly tactful in turning down Musk, a man who got a whole lot of good, free press this week for doing, uh, nothing, and who has gotten a whole lot of otherwise bad press lately. "Although his technology is good and sophisticated it's not practical for this mission." (A 38-year-old former Thai Navy Seal, Saman Gunan, died after running out of oxygen during a dive earlier on in the extraction.) On Monday, Musk tweeted that he'd brought the sub to the cave in Thailand and that it was ready "if needed." He noted that he'd be leaving the sub in Thailand in case it could be used in the future.
Here, Thailand. Hope you wanted this sub!