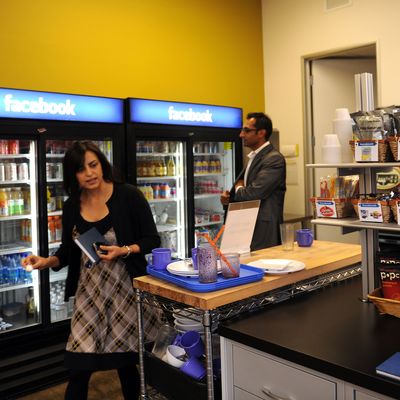 Photo: Gabriel Bouys/AFP/Getty Images
Turns out there's no such thing as a free lunch, at least if you work for Facebook. The company has been banned by local authorities from providing free food to employees in its new offices in Mountain View, The Guardian reports. The move is an attempt to help local businesses and restaurants who lose income when hundreds of thousands of people who work in the area don't have to spend money at said business and restaurants. (The ruling was passed in 2014, the San Francisco Chronicle notes, but at that point the offices were still years from opening day.) City officials in San Francisco are hoping to impose similar rules.
Two thousand Facebook employees are due to move into an office in a complex called The Village at San Antonio Center. In a 2014 agreement with the social network, reported by the San Francisco Chronicle this week, the city stipulated that tenants of the development cannot subsidise employee meals by more than 50%. Facebook can, however, cover the cost of employees' food if they dine in restaurants that are open to the public.
In case you're not familiar, free food is something of a major perk of working in the start-up-y world of Silicon Valley. (A recent event at Instagram, which Facebook owns, showcased the talents of Instagram's in-house food services, including a gelato bar, poke bowls, smoothies, and foie gras something or other.) Plus, leaving the office to grab lunch for an hour at a nearby restaurant would decrease productivity. Who would possibly want that?