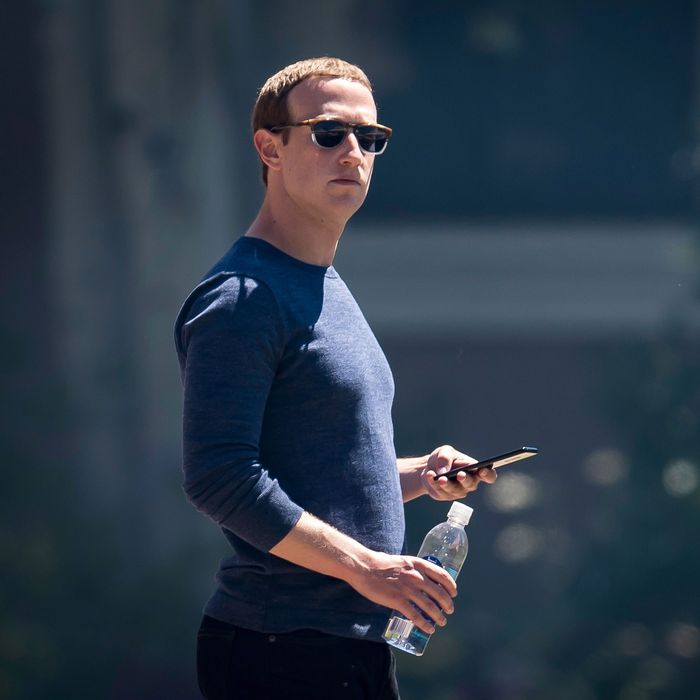 Photo: David Paul Morris/Bloomberg via Getty Images
Facebook announced today that it had identified a number of pages on its service that were "involved in coordinated inauthentic behavior," misleading users about who was running the pages and the intent behind them. The company said that it had removed 32 pages from Facebook and its subsidiary, Instagram. The pages had social-justice-oriented names and branding, such as "Black Elevation" and "Resisters."
"It's clear that whoever set up these accounts went to much greater lengths to obscure their true identities than the Russian-based Internet Research Agency (IRA) has in the past," the company wrote in a blog post. "We believe this could be partly due to changes we've made over the last year to make this kind of abuse much harder."
On a conference call this afternoon, Facebook also said that it had identified 30 events organized through Facebook that had already occurred, as well as some future events that it has removed the listings for. One of the events, protesting a second "Unite the Right" rally like the one that took place in Charlottesville last year, was coordinated by a "bad actor" account reaching out to five authentic admins. More than 2,600 users expressed interest in the event and more than 600 said that they would attend.
Facebook said that it was in the early stages of identifying who was behind the pages, and declined to identify a potential culprit. That didn't stop Senator Mark Warner, one of the leaders of the Senate Intelligence Committee, from releasing a statement pointing blame at the Kremlin. Sample posts from these pages released by the company were aimed at liberals — anti-Trump, anti-colonialist, or endorsing black pride. One page, "Mindful Being," appears to have been New Age pablum.
One detail of Facebook's announcement today was that these actors had taken steps to shield their identities by placing ad buys through third parties. A Facebook spokesperson confirmed that "the ads were placed by unwitting people who offer online marketing services." Buying ads on Facebook on behalf of a third party is not against the site's policies, although Facebook has implemented a system requiring ad buyers focused on political topics to verify their identities.