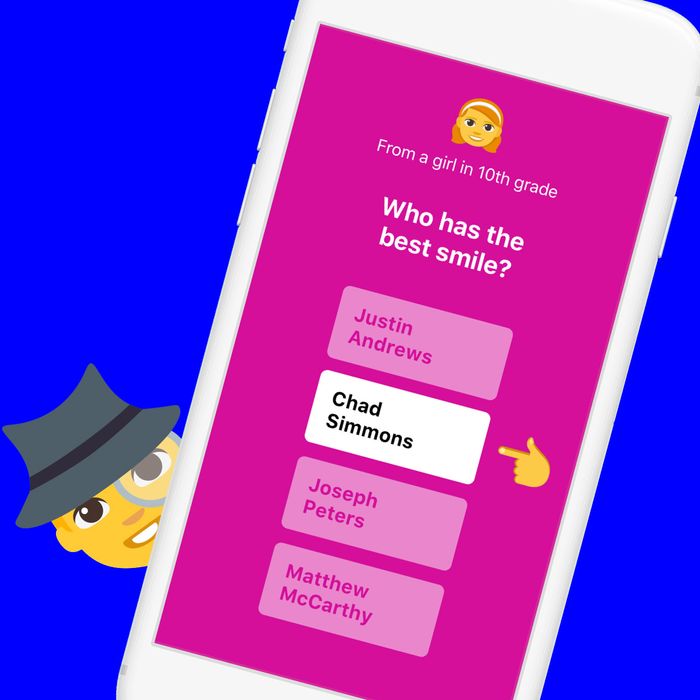 Sad news for all of the honest people out there: Facebook is shutting down TBH. TBH is the anonymous polling app that's less than a year old. It was acquired by Facebook in October of 2017, two months after it launched. In a post yesterday, Facebook said it was shutting down the app "due to low usage."
The way TBH, short for "to be honest," works (or worked) is that after signing in with a name, school, and gender, users were presented with polling questions. You'd get prompts like "Who has the best smile?" and "Most likely to be behind a prank," and then you'd pick one of your four friends. It avoided the anonymous-gossip problem that plagued apps like Yik Yak because the prompts were written by TBH and were almost exclusively positive.
It was one of those flash-in-the-pan apps that everyone used for a few days, but clearly Facebook was scared of it — because it bought it. The Facebook acquisition immediately made TBH very uncool, and clearly usage slid. An Android app never materialized, and its not clear what Facebook got out of the deal other than snuffing out potential competition.
In its announcement, Facebook also said it was shutting down Moves, its fitness app, and Hello, an app for linking phone contacts to Facebook info. Best of luck to the tens of users disappointed by this.