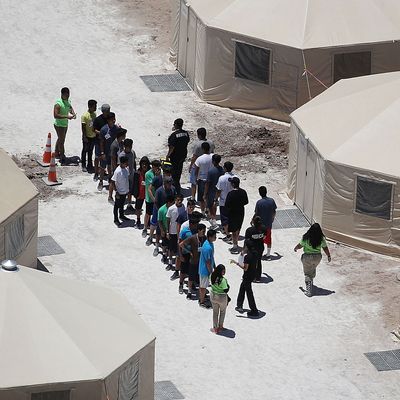 Lost and unfound.
Photo: Joe Raedle/Getty Images
The Trump administration is requesting more time to reunite the families that it separated at the border — because it can't remember exactly how many migrant children it abducted.
A federal court has ordered the administration to return all children under 5 to their parents by July 10, and all others by July 26. But attorneys for the U.S. government argue that those deadlines provide Uncle Sam with insufficient time to verify the identity of each child's parent, and confirm that said parent is not a known sex offender or violent criminal.
And yet, such vetting and verification wouldn't be nearly so time-consuming had the Trump administration bothered to keep detailed records on every family that forcibly broke up. In a conference call with reporters Thursday, Health and Human Services (HHS) secretary Alex Azar confirmed that the administration "doesn't know exactly how many of the children in its care were separated from parents under the policy."
Now, HHS is working to run DNA tests to "confirm parent-child relationships for nearly 3,000 children," NBC News reports. Inconclusive DNA tests — and the immense challenge of reuniting children with parents who have already been deported back to Central America — has made it virtually impossible for the government to meet the terms of its court order, administration lawyers claim in the filing.
If the court insists on maintaining the existing deadline, the government has asked that it should specify exactly what standard of vetting it expects HHS to live up to, so as to provide the agency with "full clarity."
Meanwhile, testimonials from migrants who have already been united with their children provide a harrowing portrait of the administration's negligence. Olivia Caceres, who was separated from her infant son in November, offered the following account to PBS:
[My son] is not the same since we were reunited. I thought that, because he is so young he would not be traumatized by this experience, but he does not separate from me. He cries when he does not see me. That behavior is not normal. In El Salvador he would stay with his dad or my sister and not cry. Now he cries for fear of being alone … [When I was first reunited with my son] he continued to cry when we got home and would hold on to my leg and would not let me go. When I took off his clothes he was full of dirt and lice. It seemed like they had not bathed him the 85 days he was away from us.
The Trump administration has officially ended its policy of separating families of asylum seekers who cross the U.S. border between official points of entry. But it remains committed to criminally prosecuting all who cross the border illegally, and thus, to imprisoning children with their parents, indefinitely — potentially in "tent cities."
Surely, we can trust that such facilities will be run with the utmost competence and humanity.