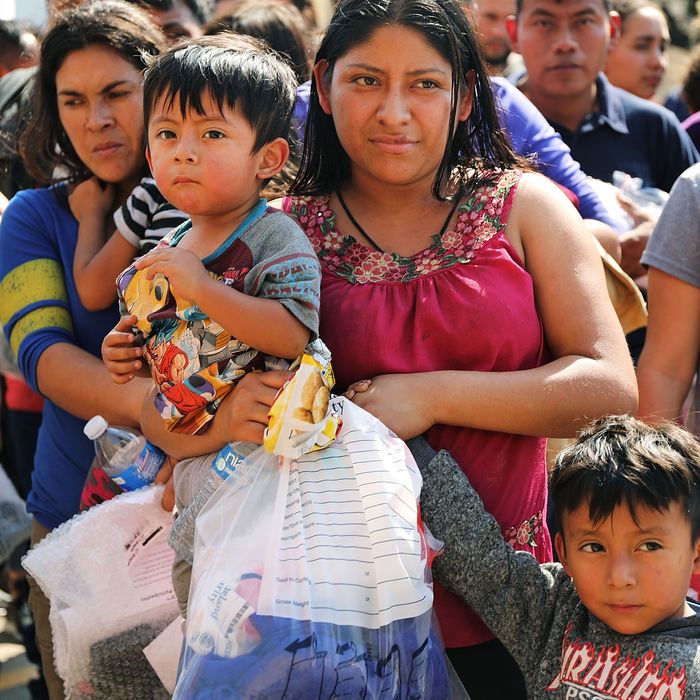 Dozens of migrant families arrive at a bus station in McAllen, Texas, following release from Customs and Border Protection on June 23, 2018.
Photo: Spencer Platt/Getty Images
When President Trump signed an executive order ending his policy of separating migrant families at the border, his administration seemed to have no plan for reuniting the nearly 3,000 children with their parents. Several days later, a federal judge said that was unacceptable, giving the government 14 days to reunite the youngest children with their parents, and 30 days to return all the children.
The Trump administration failed to fully meet the first deadline. While U.S. District Judge Dana Sabraw initially praised the Department of Health and Human Services for its "good faith" effort to meet the July 10 deadline, only 58 of the 103 separated children under 5 years old were reunited by Thursday. The government said 33 parents could not be reunited with their children because they were in criminal custody, and 12 adults had already been deported.
In a court filing on Friday, HHS gave the exact number of older children in its custody for the first time — 2,551 migrant children age 5 to 17 — and laid out its plan for reuniting them with their families by July 26. Politico reports:
Under an amended plan that the Trump administration said it began deploying on Friday, Immigration and Customs Enforcement will set up between six and eight locations where families can be reunified. HHS field teams will then interview prospective parents for 15 minutes to confirm parentage and a desire to reunite with the child; HHS also will review available records to determine criminal history or other factors that may pose a risk to the child.




When parentage can be confirmed, and officials determine that the child is not at risk, HHS will then bring the child to the adult's location within 48 hours and turn custody over to ICE.
But government officials argued that complying with an order from Sabraw to speed up the process by foregoing DNA testing on all adults and routine background checks on all residents in the homes where the child would be placed might put some of the minors in danger. (After several mothers reported that they had to pay for their DNA tests, Sabraw ordered the government to foot the bill.)
Chris Meekins, chief of staff for HHS's Office of the Assistant Secretary for Preparedness and Response, told the court on Friday that its "truncating of the vetting process … materially increases the risk that HHS will reunify a child with a parent who will abuse them." Officials also warned that as many as 175 children could end up with adults who are not their biological parents.
Sabraw, a George W. Bush appointee, admonished Meekins during a phone conference with attorneys on Friday, calling it "nothing but cover for HHS," and saying the government has an "absolute 100 percent obligation" to meet the deadlines while ensuring the children's safety, and that they're being returned to the correct family.
"It portrays a very grudging reluctance to do things. And then ultimately says, we are doing a truncated procedures, and if anything goes wrong it is on the court," Sabraw said. "That's the message, and it's not appreciated, and the government can do a lot better."
On Sunday — as a new report on conditions in the shelters revealed some detained children are required to scrub toilets, and many are forbidden from hugging even their siblings — the Trump administration released an amended plan for returning hundreds of children to their families in the coming days. The court papers clarified that the government will not not reunify a child without confirming parentage, though they may use methods that are speedier than DNA testing. Officials noted this isn't as much of a concern with the older children since they have better communication skills. The government still maintained that Sabraw's demand for timely reunifications presented a safety risk.
Most of the parents reunited with younger children were released with ankle monitors; it remains unclear if the parents of the older children will get monitors too, or if they will be detained as a family. Though the Trump administration is trying to find more space for detention facilities, the latter scenario could set the stage for more detentions, as the government can only detain children in those facilities for 20 days.