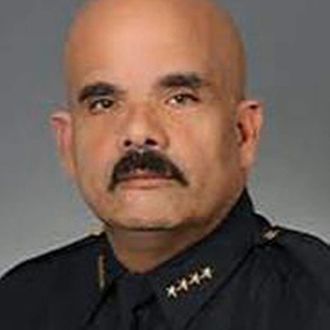 Raimundo Atesiano, former police chief in Biscayne Park.
Photo: Biscayne Park Police Department
Officers working on a small-town Florida police force were directed to arrest any black person with "somewhat of a record" and pin unrelated crimes on them, the Miami Herald reports. The goal of this clearly illegal and highly unethical practice was to achieve perfect crime stats, which the department frequently boasted about, even if they were fake.
It worked, for a time at least. In 2013 and 2014, the police in Biscayne Park, Florida, a quiet suburb of Miami, solved 29 of 30 burglary cases. It was a point of pride for former chief Raimundo Atesiano, and according to one officer who worked under him, he wanted to keep those stats by any means necessary.
In an interview conducted as a part of a 2014 internal problem, officer Anthony De La Torre relayed what he was told by the department's leaders: "'If they have burglaries that are open cases that are not solved yet, if you see anybody black walking through our streets and they have somewhat of a record, arrest them so we can pin them for all the burglary.' They were basically doing this to have a 100% clearance rate for the city."
Three other officers interviewed as a part of that probe told an investigator that Atesiano and other commanders said to frame people so their stats would look more impressive. One of them, Omar Martinez, said he refused, telling investigators that he told commanders, "I will not arrest an innocent person in order to make the department look good."
Atesiano, who denies directing officers to target innocent black people, resigned as the 2014 probe was being conducted. The following year, the department failed to solve any of the 19 burglary cases put in front of it.
Last month, Atesiano and two of his former officers were charged by federal prosecutors for one specific abuse of power. According to prosecutors, they framed a 16-year-old for four different burglaries while "knowing that there was no evidence and no lawful basis to support such charges." The victim of that framing was black.
And that doesn't appear to be the only time the Biscayne Park police zeroed in on one person and framed him for a host of crimes. In February of 2014, a black man was arrested and charged with five burglaries in one day. Prosecutors eventually dropped all the charges.