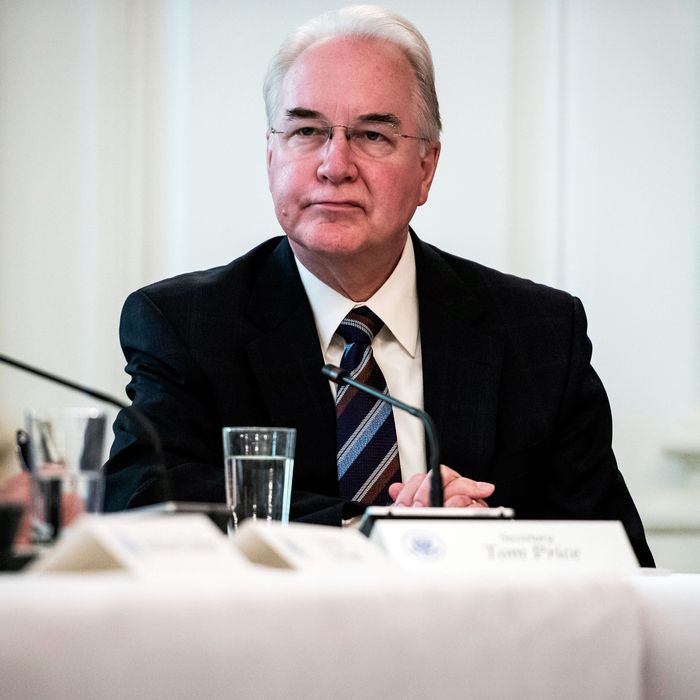 The man with a reputation of being a tight-fisted fiscal hawk in Congress managed to ring up well over a million smackers in travel expenses in his brief tenure as HHS Secretary.
Photo: Jabin Botsford/The Washington Post/Getty Images
We haven't yet received a full accounting of how much money former EPA administrator Scott Pruitt wasted on excessive travel expenses during his 15-plus months in office. But it will be tough for him to beat the dubious record set by former Health and Human Services secretary Tom Price in just over seven months in 2017. According to a new report from the HHS inspector general, 20 of the 21 official trips taken by Price during his brief tenure violated federal travel regulations. His unauthorized use of private charter airline services on 12 trips created the biggest problems, leading the IG to recommend that the feds recoup from him roughly $341,000 of the $481,000 in costs he managed to incur (Price has already coughed up just under $60,000 in travel expenses). No wonder this burgeoning scandal forced his early resignation in September of 2017. When your taste for luxury manages to embarrass Donald Trump, you've really lost your moorings.
All in all, Price managed to ring up close to $1.2 million in travel expenses during a reign at HHS mainly known for the administration's failure to repeal Obamacare. $700,000 of those expenses were attributable to the use of military aircraft, for which HHS had to pay (the White House charged HHS more than $400,000 for use of military aircraft on an eight-day trip to China, Vietnam, and Japan in recognition of "the pivotal role of the U.S.'s relationships and investments in Asia in securing the health of Americans," whatever that means). Turns out HHS spent $11,000 on an unused commercial airline ticket for Price on the same trip. That's all separate from the private air charter abuses that got Price fired and for which he may yet have to foot the bill.
What makes it all worse is that Price frequently got the feds to pay for travel that looked suspiciously personal, as Politico notes:
[T]he inspector general said a late June trip to San Diego, Aspen and Salt Lake City included only 3.5 hours of official engagements. It cost the government $50,420 "when other options, including commercial travel, would have accommodated his schedule," auditors wrote. HHS should recoup $36,313 from that trip alone, the office recommended.




Another chartered flight on June 6 to Nashville should have been canceled, the report said. HHS originally booked the charter jet so Price could be in Washington for a meeting at the White House that morning, but the meeting was scrapped two days before the flight.




However, Price still took the trip, which cost $17,760 for a chartered jet, to hold 1.5 hours of official business. He also had lunch with his son during the trip.
Price represented a comfortable suburban Atlanta district during his years in Congress, but people there don't usually drive around throwing dollar bills out the window. It was especially egregious behavior for the former chairman of the House Budget Committee, who honed an image as a tight-fisted fiscal conservative.
While the IG thinks Price should be dunned for the excess costs, HHS will "seek guidance from the Justice Department" about collection procedures. It's also unclear how quickly the former orthopedic surgeon, whose investments in health-care companies raised a lot of hackles during his confirmation hearings, could pay off the feds. As Politico notes, he's got some pretty cushy-sounding post-HHS gigs:
Price has maintained a relatively low profile since his abrupt departure from HHS, though he's made some speeches at health care conferences in Washington. Earlier this year he was named to the advisory board for Jackson Healthcare, a company based in the Atlanta suburbs. He's also a senior fellow at the Job Creators Network, a business advocacy group.
Sounds like he'd better rustle up some expensive "advice" and "advocacy" pronto. And it wouldn't hurt if Pruitt's travel was back in the headlines for a while.