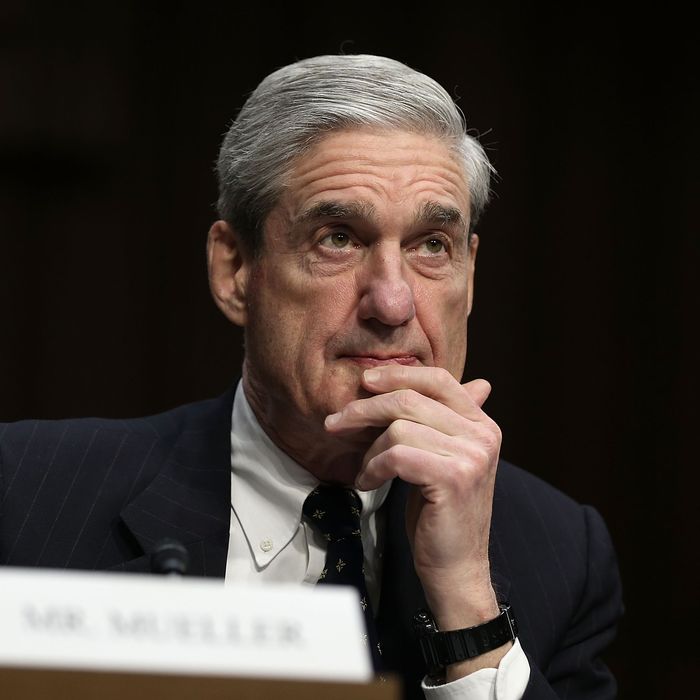 Persona non grata at the White House.
Photo: Alex Wong/Getty Images
In an interview with the New York Times, Rudy Giuliani — who has not kept up his previously breakneck pace of committing gaffes lately — said that President Trump will not agree to be interviewed by Special Counsel Robert Mueller unless Mueller proves that the president has committed a crime, and that his cooperation is essential to solve that crime. How reasonable!
"If they can come to us and show us the basis and that it's legitimate and that they have uncovered something, we can go from there and assess their objectivity," Giuliani said. Mueller wants to question Trump about incidents that form the backbone of his investigation of collusion between the Trump administration and Russia. These include his decision to fire former FBI Director James Comey, the false statement he dictated about a pre-election meeting at Trump Tower, and more.
But to get a sit-down with the subject of his investigation, the Trump team hopes to force Mueller to leap over several hurdles:
The president's lawyers want Mr. Mueller to explain how the Justice Department gave him the authority to investigate possible obstruction of justice by the president in what began as a counterintelligence investigation into Russia's election meddling. The order appointing Mr. Mueller authorized him to investigate possible links between Moscow's interference and Trump associates, as well as any matters that arose from the inquiry.

 

The lawyers also want evidence that the special counsel exhausted every other investigative measure before asking the president to answer questions, and that he is the only person who could provide them with the information they are seeking.
Giuliani said that he knows Mueller was unlikely to agree to these stringent demands. He also knows that Mueller may end up subpoenaing the president, which would lead to a drawn-out legal battle of uncertain conclusion.
The Trump team's combativeness is less a legal strategy than an attempt to paint Mueller as unreasonable, as part of a larger effort to discredit him before he concludes his investigation. This is a clear shift in strategy from the early days of Mueller's investigation, when Trump's erstwhile lawyers generally cooperated with Mueller, while assuring the president that his investigation would be over by Thanksgiving (2017).
Times have changed. After almost a year of strained silence, Trump has taken to attacking Mueller directly, something he repeated on Saturday afternoon.
Meanwhile, Giuliani frequently labels the former FBI director as a  partisan who is incapable of conducting a fair investigation. Even John Dowd, who who made the Thanksgiving guarantee and is no longer on the president's legal team, now says Trump's instincts about the special counsel were correct.
This strategy has already borne some fruit. Poll numbers show that the longer Mueller's investigation continues, the more Americans want to see it end.
But the Times also frames the shift in strategy as a loss of trust on the part of the administration, reporting that after FBI officers raided Michael Cohen's office in April, "Mr. Trump concluded that Mr. Mueller and Justice Department officials were determined to find wrongdoing."
This makes it sound like Trump had been perfectly content with the investigation before that critical breaking point; in reality, the president had wanted to get rid of Mueller from the beginning, and came close to doing so last summer.
The change in posture instead mirrors the Trump administration's evolution in many other areas, from the Iran deal to incipient trade wars. In the first year of his presidency, as he adjusted to a job he found overwhelming, Trump  Now, as he has intentionally shed most of the moderating forces in his administration, he is unshackled and more likely to follow his unerringly pugilistic instincts to the breaking point.
Whether his aggressive posture on this particular point pays off may depend not only on public opinion, but on how integral a sit-down really is to the Mueller investigation.
Lawfare's  Benjamin Wittes argues that if Mueller really does need an interview to proceed with this case, he'll find a way to secure one — and if not, he may simply move on.
Ultimately, the fight over this point is likely to be a warm-up for the real battle, which will take place when Mueller finally reveals his findings. With Trump on the attack against the investigation and Mueller and his team resolutely quiet, the battle for public opinion has been a one-sided affair. But it won't stay that way forever.