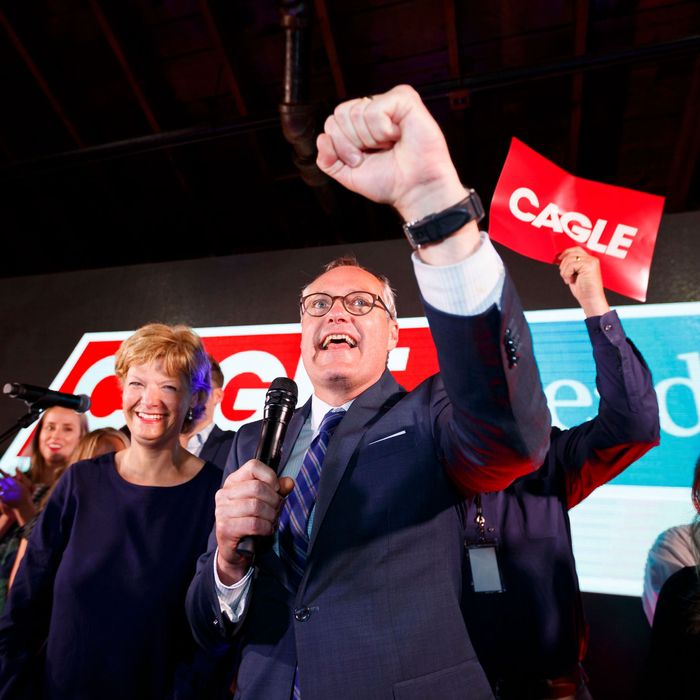 A tape of Casey Cagle talking to a vanquished primary foe keeps on providing really unfortunate true confessions from the Republican gubernatorial front-runner.
Photo: Todd Kirkland/AP/REX/Shutterstock
Down in Georgia, longtime Republican lieutenant governor Casey Cagle is locked in a close runoff race for governor with longtime secretary of State Brian Kemp. And even as Kemp has been hit with allegations of taking campaign contributions in exchange for regulatory favors, Cagle is suffering fallout from a surreptitiously taped conversation he had with a vanquished foe just after the May 22 primary.
The first big leak from that tape came out about a month ago, and showed Cagle admitting he had supported a controversial bill increasing public subsidies for private schools because he was trying to block a big campaign contribution for yet another rival who subsequently did not make the runoff. Now another snippet from the same tape has come out, and once again Cagle is making a good confession of things that Republican candidates are never, ever supposed to say out loud:
The issues you talk about [presumably educational policy] are the issues I care about as well. The problem is in a primary — and you and I are just talking off the record, Frank — they don't give a (expletive) about those things. Okay. In the general election, they care about it. Okay. But they don't care about it in a primary. This primary felt like it was who had the biggest gun, who had the biggest truck, and who could be the craziest.
You have to figure Cagle was thinking of this campaign ad from Brian Kemp that helped vault him into the runoff:
And because admitting that the obsession with "energizing the base" in competitive GOP primaries has driven Republicans almost literally crazy is considered extremely damaging, it's Kemp's campaign that released the portion of the tape containing the latest Cagle remarks. It does make you wonder what else is on that tape that Kemp might be holding in reserve for the days just before the July 24 runoff. Will Casey Cagle admit there's a real thing called climate change, or that Georgia's gun laws letting people pack heat at bars and churches is nuts, or that some of the president's tweets embarrass him? Nobody knows for sure, but the happiest observer of Cagle's True Confessions is likely to be Democratic gubernatorial nominee Stacey Abrams.