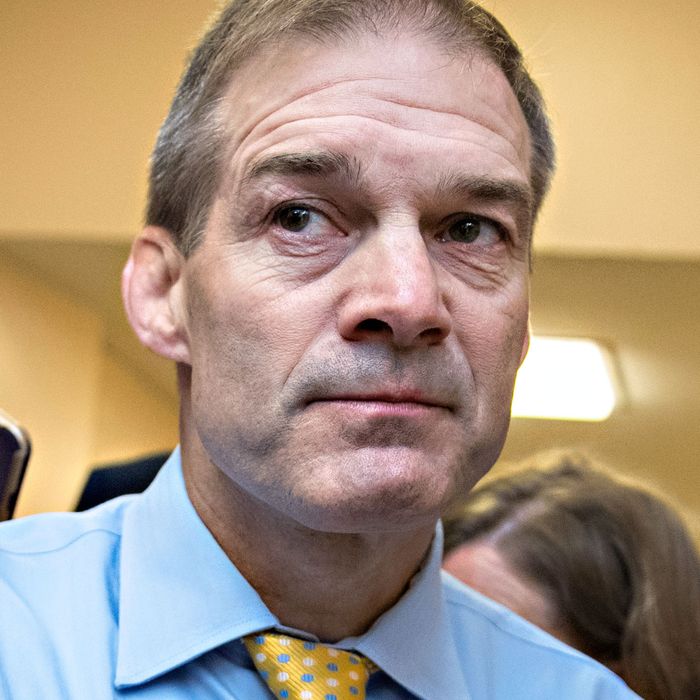 What did Jim Jordan know, and what did he do about it?
Photo: Tom Williams/CQ-Roll Call,Inc.
The horrific scandal involving Larry Nassar, the Michigan State University and U.S. Gymnastics team physician who was convicted of criminal sexual assault against athletes under his care, and was credibly accused of literally hundreds of acts of abuse, has made the risks of sexual misconduct by medical personnel at colleges a huge topic, especially in the Midwest. Those who knew or had reason to know of his misdeeds over the years have been held accountable: Exposure of his crimes led to the resignations of the president and board of USA Gymnastics, and the president of Michigan State, along with $500 million to settle lawsuits against MSU filed by 332 Nassar victims.
That makes the new allegations being made that prominent conservative U.S. representative Jim Jordan turned a blind eye to sexual abuse of athletes by a team doctor during his long tenure as an assistant wrestling coach at Ohio State University especially explosive right now. NBC has the story:
Rep. Jim Jordan, the powerful Republican congressman from Ohio, is being accused by former wrestlers he coached more than two decades ago at Ohio State University of failing to stop the team doctor from molesting them and other students.




The university announced in April that it was investigating accusations that Dr. Richard Strauss, who died in 2005, abused team members when he was the team doctor from the mid-1970s to late 1990s.
Jordan, who was on the wrestling staff at OSU from 1986 to 1994, before his political career began, is denying that he knew anything about Strauss molesting his athletes.
His denials, however, have been met with skepticism and anger from some former members of the wrestling team.




Three former wrestlers told NBC News that it was common knowledge that Strauss showered regularly with the students and inappropriately touched them during appointments, and said it would have been impossible for Jordan to be unaware; one wrestler said he told Jordan directly about the abuse.
The ex-athletes don't seem to have any particular bone, political or otherwise, to pick with Jordan, and mostly said they were fond of him. But the ones who spoke to NBC were unanimous in saying that he's covering up what he knew:
"I love Jimmy to death," [one] ex-wrestler said. "It was a head-scratcher to me why he would say he didn't know anything. Doc used to take showers with the team even though he didn't do any workouts, and everybody used to snicker about how you go into his office for a sore shoulder and he tells you to take your pants down."
At least one of Strauss's accusers claims that his misconduct went far beyond the wrestling team, as the Washington Post reports:
[Mike] DiSabato said he was first abused by Strauss at 14 as a high school wrestler. He said he believes Strauss abused 1,000-2,000 young athletes.




"He was Larry Nassar before Larry Nassar," DiSabato said, referring to the disgraced former sports physician who was sentenced to up to 175 years in prison for sexually abusing girls and young women.
Now Jordan is a pretty big deal in the House these days, as a co-founder of the conservative House Freedom Caucus and a possible candidate for the speakership when Paul Ryan steps down at the end of this year. These accusations are the last thing he needs right now. And his prominence in conservative politics is already generating ferocious counterattacks from the, er, less inhibited precincts of the right-wing media, viz this post on the Gateway Pundit:
The swamp unleashed a smear campaign on Jordan Tuesday morning, accusing him of turning a blind eye to sexual abuse as Ohio State wrestling coach.




The law firm handling this case is none other than Perkins Coie; the same law firm that represented Hillary Clinton's campaign and paid for the fake Russia dossier.
Perkins Coie is actually working for Ohio State in the investigation, not Jordan's accusers, but whatever. Alt-right gabber Mike Tokes sees something even more sinister at work:
It takes some kind of self-confidence to hear of serious allegations of criminal misconduct that only indirectly involves one of your "team's" politicians and immediately know for a fact that it's a "deep state" conspiracy. The rest of us will just have to wait for the facts to unfold.