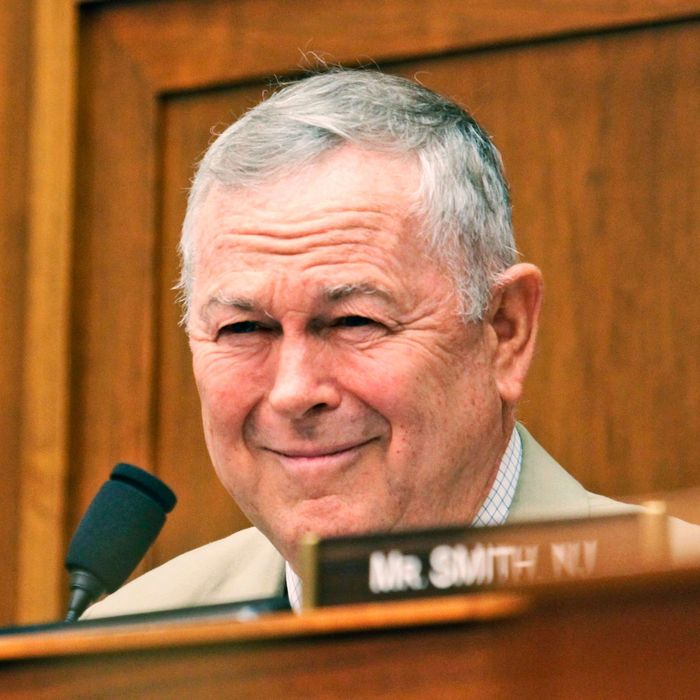 The endangered Republican from Orange County isn't shy about his most controversial opinions.
Photo: Paul Holston/AP/REX/Shutterstock
For a congressman fighting to defend one of the most vulnerable Republican House districts in the country, Dana Rohrabacher of California is going far out of his way to ignore the usual commonsense injunction to stay focused on local issues and avoid saying anything terribly controversial. First, the 30-year incumbent managed to get himself taped for a segment in Sacha Baron Cohen's Showtime comedy offering Who Is America? in which one of Cohen's fake agents provocateurs appears to secure endorsements for a gun-training program for toddlers.
After the show aired, Rohrabacher put out a statement attesting to the deception involved, saying (in part):
Cohen's people apparently used footage from an interview I submitted to earlier this year for a bogus Israeli television company supposedly celebrating the country's 70th anniversary. In that interview, which was not with Cohen, I spoke broadly of training young people at a responsible age in self-defense. At no time did I endorse training toddlers in handling guns.
Rohrabacher wasn't the only Republican pol caught in Cohen's net — former senator Trent Lott, former representative Joe Walsh, and current representative Joe Wilson did as well, and said a lot more questionable things than he did. But he was most definitely the only congressman running for reelection in a district carried by Hillary Clinton in 2016 to fish with Cohen's bizarre scam. Why he agreed to anything within a hundred miles of this interview is a question that should haunt anyone invested (via contributions or otherwise) in the man's reelection.
You could say the same about Rohrabacher's second incomprehensible appearance on the small screen within 24 hours: his Bloomberg TV interview after the disastrous Trump–Putin press conference. Rohrabacher did not only defend Trump's performance, but doubled down one of the president's most dubious assertions: that the U.S. had meddled with Russian and other elections (including Ukraine's) "at a much higher level" than that practiced by Putin's government. He also repeatedly attacked the "unrelenting hostility" toward Russia exhibited by those who didn't understand that Putin was simply fighting for his country's interests just like any self-respecting head of state.
This combative appearance ensured Rohrabacher plenty of national attention as the rare Republican leader who either didn't disapprove of Trump's performance in Helsinki, or avoided the cameras and microphones altogether.
But to be clear, neither of the Orange County Republican's strange media appearances over the last 48 hours was uncharacteristic. He has decades of 90-plus ratings from the National Rifle Association and the even more radical Gun Owners of America (whose longtime executive director, Larry Pratt, played a hilariously central role in Cohen's guns-for-toddlers scam). And he had established a record of conspicuous affection toward Vladimir Putin and Russia long before he became a big supporter of Donald Trump. In this respect, you could say he was Trump before Trump was Trump (to borrow the self-description of former GOP congressional candidate Rick Saccone). Here's how the New York Times summed up the reputation recently acquired by the former Reagan speechwriter:
For two decades, Representative Dana Rohrabacher has been of value to the Kremlin, so valuable in recent years that the F.B.I. warned him in 2012 that Russia regarded him as an intelligence source worthy of a Kremlin code name.




The following year, the California Republican became even more valuable, assuming the chairmanship of the Foreign Affairs subcommittee that oversees Russia policy.
This hasn't just been a sideline for Rohrabacher, but a big part of his congressional service, as the Washington Post observed last year:
Politico labeled him "Putin's favorite congressman," noting his effort to end the U.S. blacklisting of Russians allegedly involved in the death of martyred Russian whistleblower Sergei Magnitsky. Putin considers the "Magnitsky Act" to be an outrage and halted U.S. adoptions of Russian children in retaliation.




More recently, Rohrabacher has cast doubt on reports of Russia's human rights abuses …




[H]is profile can only rise if Trump follows through on his oft-stated goal of building a closer relationship with Russia.
Yes, his profile has risen, all right. He seems to be a true believer in the idea that Russia has transformed itself in the post–Cold War era from the Evil Empire Reagan described into a bulwark against Islamic terrorism. Rohrabacher's Russophilia has in the past probably seemed like a harmless eccentricity to his constituents. Now that he's Donald Trump and Vladimir Putin's common wingman, it could be damaging during a bad election year for California Republicans.
This unfortunate and aggressive self-branding by Rohrabacher comes just as a rare public poll of an individual House district, by the respected Monmouth University outfit, shows him trailing Democrat Harley Rouda among both registered and likely voters. The little-known Rouda arguably has more room for growth in his support as compared to the 15-term veteran. And it's worth noting that in the June 5 primary, Rohrabacher got a smaller percentage (30 percent) of the total vote than any other California GOP House incumbent.
At the perilous moment in Rohrabacher's career, he needs to look normal for a while, even if that means having a press secretary willing to physically stop him every time he heads toward a media studio.