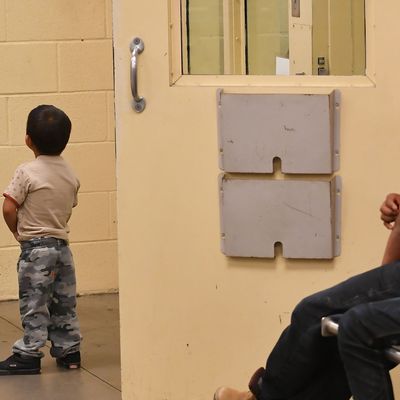 Young migrant boys at the U.S. Customs and Border Protection Facility in Tucson, Arizona.
Photo: Mandel Ngan/AFP/Getty Images
One day before a court-mandated deadline for reuniting dozens of children who had been separated from their parents under the Trump administration's "zero tolerance" policy, a Justice Department lawyer said the federal government would fall well short of the target.
Sarah Fabian told Judge Dana M. Sabraw on Monday that the DOJ, with help from the American Civil Liberties Union, had thus far only reunited two of the children in question with their parents, but that it could reunite as many as 54 more by Tuesday. Fabian did not offer a timetable for when the other children would join their parents.
Fabian did give the judge new details that shed some light on the delay. According to official records, there are at least 84 children under 5 years old that were separated from parents. Thirty children will not be reunited by Tuesday, for a range of reasons. Some parents of the children have already been deported; others are still in criminal custody; others are undergoing background checks. One child has still not had either of its parents identified. The ACLU contends that there may be more separated children that the government has not counted.
Despite the delay in fulfilling her order, Sabraw commended the government for its efforts.
"There's no question that the parties are meeting and conferring," she said. "This is real progress and I'm optimistic that many of these families will be reunited tomorrow, and then we'll have a very clear understanding as to who has not been reunited, why not, and what time-frame will be in place."
On Friday, the Trump administration had requested more time to fulfill the judge's order, which came in response to a lawsuit filed by the ACLU. But as Vox's Dara Lind writes, the judge is unlikely to hold the federal government in contempt over a single missed deadline.
"It's extremely disappointing that the Trump administration looks like it will fail to reunite even half the children under 5 with their parent," ACLU attorney Lee Gelernt said in a statement. "These kids have already suffered so much because of this policy, and every extra day apart just adds to that pain."
The chaotic process of attempting to match children with their parents has revealed the haphazardness of the administration's overarching policy. Reporters on the ground have reported that there seemed to be no plan to track where different parts of families were being sent so that they could eventually be reunited.
This sort of carelessness raises major questions ahead of an even more significant deadline than Tuesday's: Sabraw had also ordered the government to reunite all of the nearly 3,000 children it took from parents by July 26.