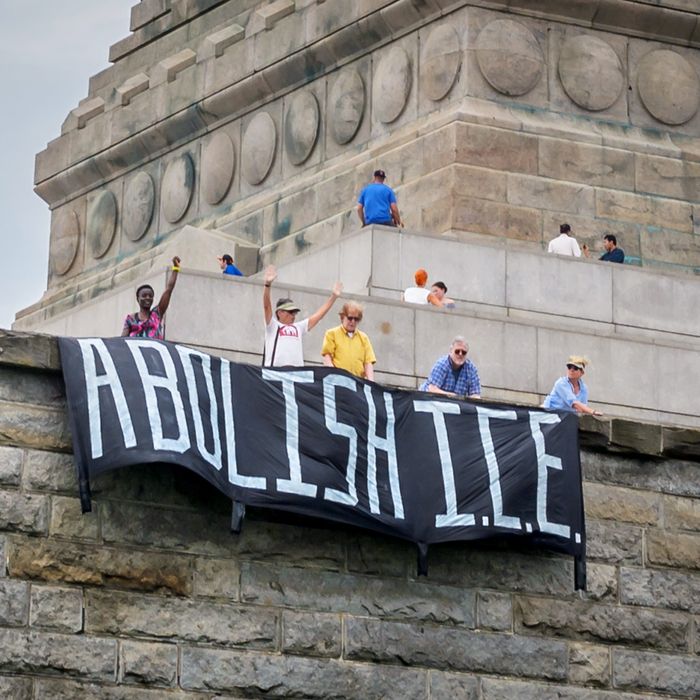 House Republicans join lefty protesters in insisting on a vote on anti-ICE legislation.
Photo: Erik McGregor/Pacific Press/LightRocket via Getty Images
House Republicans rather famously can't reach agreement among themselves about any sort of comprehensive set of immigration policies. This was demonstrated beyond any reasonable doubt by the resounding defeat in June of two GOP bills endorsed by the House leadership and the president.
But if they can't get their own act together on immigration, House Republicans can cheerfully endorse a strategy of setting up "liberal" straw men and knocking them down. We saw that in 2017 when the House passed two bills aimed at the largely phantom menace of "sanctuary cities" (also a favorite target of conservatives at the state and local level, even in places with little or no sympathy for undocumented immigrants). And now House Republicans have seized on the "Abolish ICE" slogan some Democrats have embraced, and have sought to divide the Donkey Party by bringing progressive legislation on this subject to the floor. House Majority Leader and Speaker-in-waiting Kevin McCarthy of California is reportedly behind this transparently cynical maneuver, though he may also be feeling some pressure from a potential rival who has superior street cred among the hard right, as Politico reports:
Multiple GOP sources said House Majority Whip Steve Scalise (R-La.) pushed for the "Abolish ICE" bill to get a vote during a Republican Study Committee meeting Thursday, then again in a whip team huddle.




GOP members loved the idea: putting Democrats on record backing a measure that could turn off swing voters — or voting no and rebuking their own colleagues. It would also be an easy unifier for House Republicans, who are still licking their wounds from their own divisive immigration battle last month.
But if that was the idea, House Democrats aren't taking the bait. Even as House Republicans cackled and rubbed their hands in glee at the terrible dilemma they planned to create for the criminal-coddling open-borders advocates on the other side of the aisle, the sponsors of the legislation in question were saying it wouldn't work:
Rep. Mark Pocan (D-Wis.) introduced his bill to terminate ICE on Thursday, the latest effort in a push that's gained steam among the party's progressives and 2020 presidential contenders in recent weeks. Pocan first floated the idea of introducing the bill late last month after visiting the U.S.-Mexico border.




But Pocan and the bill's other authors, Reps. Pramila Jayapal (D-Wash.) and Adriano Espaillat (D-N.Y.), say they won't be part of a GOP "political stunt." Pocan said he expects other Democrats to follow suit in voting no but said they'd relish the opportunity to debate immigration on the House floor.
Indeed, Democrats think they can turn the tables on the GOP and use the occasion to hit some extremely sore points for Republicans, as Roll Call reports:
Democrats say they'll make the debate about families that have been separated at the border — an issue that needs a permanent legislative fix that Republicans do not yet have a solution for that can pass the House.
You can be sure that the inability of the Republican-controlled Congress and the White House to get on the same page about Dreamers will get some attention from House Democrats as well.
If House Republicans proceed with their plan, the "debate" could get weird, with Republicans insisting on talking about a Democratic bill that Democrats aren't supporting. But so long as the GOP can't reach consensus on the broad outlines of immigration policy and refuses to even consider a bipartisan approach, posturing and "messaging" are the only game in town.