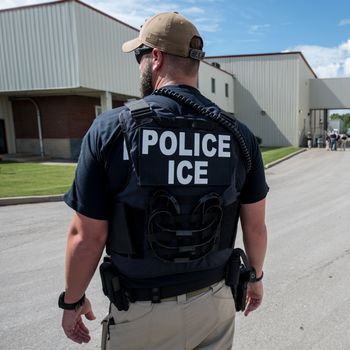 Having failed to trap Democrats into a vote on a bill to abolish ICE, House Republicans settled for a resolution of support for the immigration agency's law enforcement activities.
Photo: Smith Collection/Gado/Getty Images
At this point House Republicans (and thus the entire GOP) look likely to finish 2018 without any substantive accomplishments on immigration policy, despite all sorts of promises of and demands for action. Two comprehensive GOP immigration bills were voted down by substantial margins after Republicans refused to negotiate with Democrats and then couldn't unify their own members. So instead of legislating, the House GOP decided to do some pre-election messaging, and sought to force a vote on a bill, sponsored by progressive Democrats, to put into place a process for abolishing ICE as we know it.
House Democrats, however, didn't take the bait, and after they announced all of them would vote against the "abolish ICE" bill, Republicans changed tactics, and instead brought to the floor a resolution from Rep. Clay Higgins (R-LA) expressing strong support for the agency and its "heroic law enforcement officers who make sacrifices every day to secure our borders, enforce our laws, and protect our safety and security." This "ICE Is Nice" resolution attracted all but one Republican (the libertarian Justin Amash), along with 18 Democrats (five of whom are in relatively competitive races; two more are in tight Senate races). 34 Democrats voted against the resolution (all from safe Democratic districts), while 133 voted "present."
Republicans will most definitely huff and puff to turn this vote into an act of incredible contempt for law enforcement and a declaration of "open borders" by Democrats. But most Democrats can safely maintain the position that they don't want to abolish ICE but do want to reform some of its excesses, particularly in raids on homes and workplaces far from the border.
In the end, House Republicans took what they could get in the way of material with which to excite "the base" going into the midterms. But the underlying reality is that they couldn't get out of their own way in achieving anything positive on immigration.