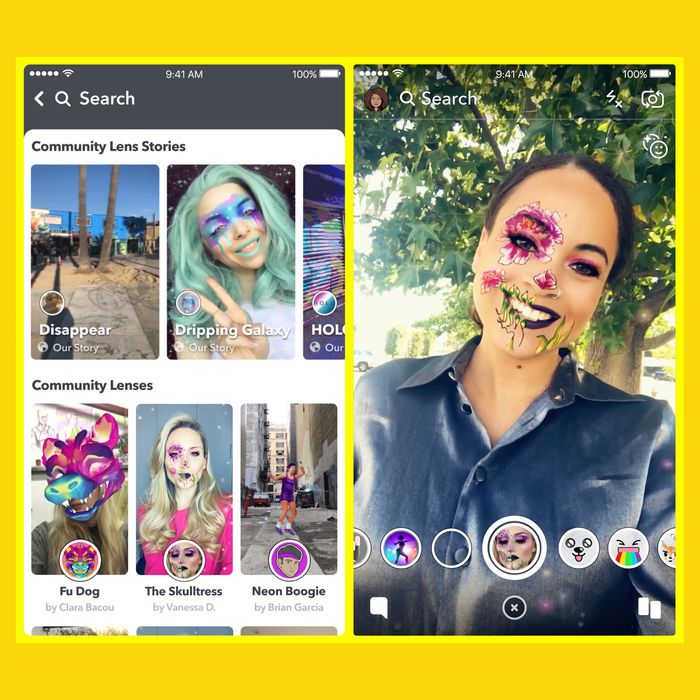 It is a known fact that no Snapchat filter will ever be as good as the dog filter. The bread-face filter comes in at a close second place. But that third-place slot is anybody's game … which is great news for lens creators looking to make a name for themselves. Building on its Lens Studio — a program that lets artists and creators design their own AR lenses — Snapchat announced on Tuesday that it is launching a new app feature called Lens Explore. Lens Explore will make it easier for Snap users to discover AR lenses created by, well, not Snapchat.
Snapchat says creators have designed 100,000 lenses since Lens Studio launched last year, and that has amounted to 2.5 billion user views. Lens Explore seems likely to increase that last figure. To try it yourself, be sure you're running the latest version of the app.
From Snap:
To begin browsing in Lens Explorer, just tap the new icon that appears when the Lens Carousel is active. Tap a Lens tile to unlock a Lens and be taken directly to the Snap Camera, or browse Lenses in featured Stories. Unlock a Lens by swiping up on Snaps in these Stories.
Snapchat has come under fire in the past for allegedly stealing lens designs and concepts from artists. Lens Explore seems like a solid way to ensure that creators are rightfully credited — and for Snapchat to benefit from their creations in the process. Ah, symbiosis. Anemone and clownfish. Barnacles and whales. Snapchat and AR designers.