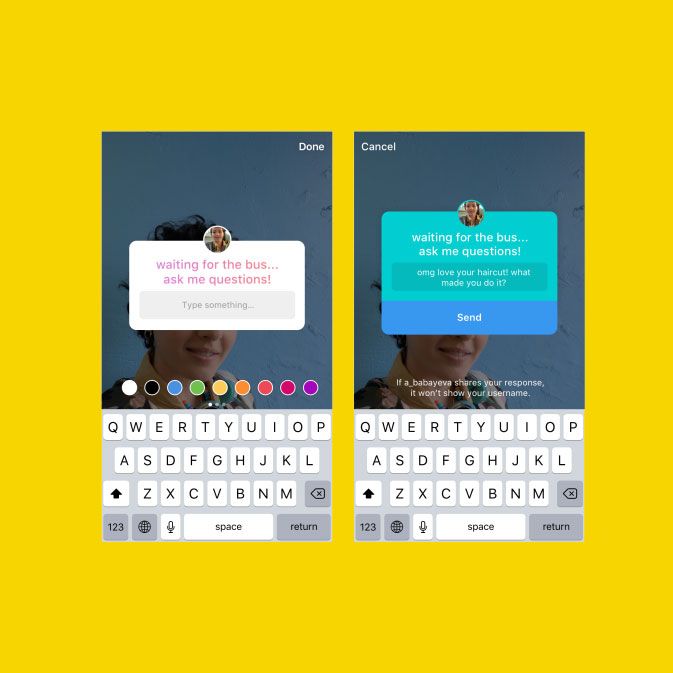 Instagram Stories has become insufferable over the past few days. Or, if not insufferable, some hybrid of Reddit and Q&A site Curious Cat — remember Curious Cat — which brings me very little joy. This is thanks to Instagram's latest Stories feature, question stickers. The stickers let users tell their followers to ask them questions. A feature that people seem to like because who doesn't love to talk about themselves, I guess! To which, if you can't beat them … join them.
To use question stickers, update your app and reopen it. Take a photo or video like you normally would and tap the stickers icon in the upper-right-hand corner of the screen. You'll see one labeled "Questions" in the third row from the top. Tap to add to your Story. By default, it will say, "Ask me a question." You can tap the text to change it to something more specific if you'd like. "Ask me a question about [insert obscure thing of choice here]." You can also customize the color of the sticker.
As a heads-up, if you, a follower, ask somebody a question … they will know you asked the question. This isn't like anonymous-gossip apps of the internet of yore. So don't ask anything you wouldn't want said person to know came from you. (Responses from your followers appear at the bottom of your Story viewers list.) If they answer your question and post it to their Story, however, your name won't be associated with it. And a friendly reminder, once again, that Instagram Polls are also not anonymous.