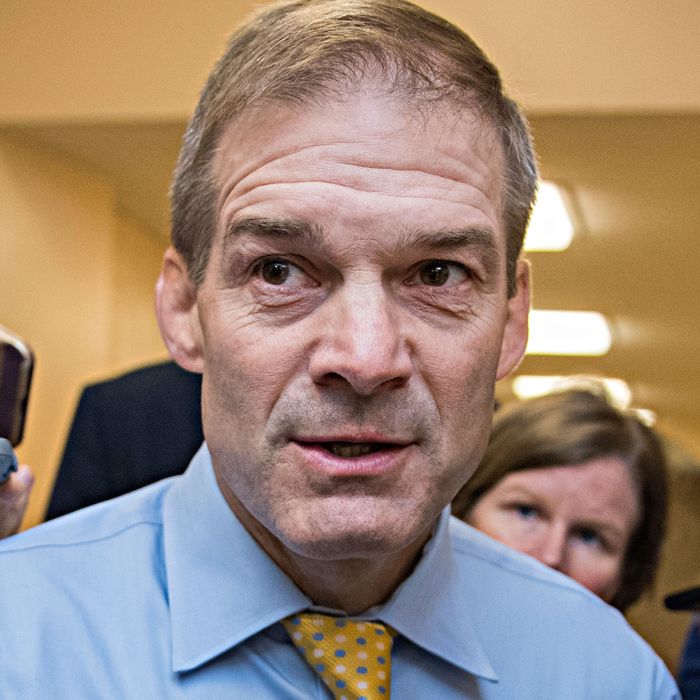 Donald Trump has Jim Jordan's back on a sex abuse scandal, which will only convince people who would never doubt Jordan anyway.
Photo: Tom Williams/CQ-Roll Call,Inc.
An investigation into allegations that US Rep. Jim Jordan (D-OH), among others, turned a blind eye to the abuse of athletes by a physician at Ohio State University just surfaced in public this week. It began with accusations by three former wrestlers coached by Jordan and a firm denial by the co-founder of the House Freedom Caucus and perhaps–aspiring Speaker of the House.
The politicization of the budding maybe-scandal was inevitable, and some right-wing gabbers leapt to the unsupported theory of a deep state conspiracy to clip Jordan's wings right away. But the likelihood that partisans will ignore the slowly emerging evidence and start firing at each other took a giant leap today when the President of the United States chose to throw caution to the wind and trash the allegations, as ABC reports:
"I don't believe them at all. I believe him. Jim Jordan is one of the most outstanding people I've met since I've been in Washington," Trump said to reporters during a brief gaggle aboard Air Force One on Thursday. "I believe him 100 percent. No question in my mind. I believe Jim Jordan 100 percent. He's an outstanding man."
Now, anyone familiar with the president's relationship with factual evidence or with sex abuse allegations is very unlikely to take his word for Jordan's innocence unless they do so by blind faith in MAGA or really don't care what's true or false. But like so many items in the news, this story is now about Trump, which means that Jordan will gain and lose credibility, as the case may be, from POTUS' embrace.
Coincidentally or not, this has happened the same day a new accuser has come forward: a fourth former OSU wrestler who claims he's a big fan (and even a campaign donor) of Jordan's, but just can't countenance a cover-up:
The wrestler, Shawn Dailey, said he was groped half a dozen times by Dr. Richard Strauss in the mid-1990s, when Jordan was the assistant wrestling coach. Dailey said he was too embarrassed to report the abuse directly to Jordan at the time, but he said Jordan took part in conversations where Strauss' abuse of many other team members came up.




"I participated with Jimmy and the other wrestlers in locker-room talk about Strauss. We all did," Dailey, 43, told NBC News, referring to Jordan. "It was very common knowledge in the locker room that if you went to Dr. Strauss for anything, you would have to pull your pants down."
Somebody's not telling the truth here, obviously, and the numbers aren't currently running in Jordan's favor. His staff is now alleging that Jordan's original accuser, Michael DiSabato, sent threatening emails to the congressman before and after the story broke. But the more the accusations spread, the harder it will be to dismiss them as the products of a vendetta or conspiracy.
Perhaps some unimpeachable facts will soon come out. If not, it's even money as to whether the politicization of the scandal becomes a big problem for Jim Jordan, or creates a right-wing groundswell to make him the next Speaker.