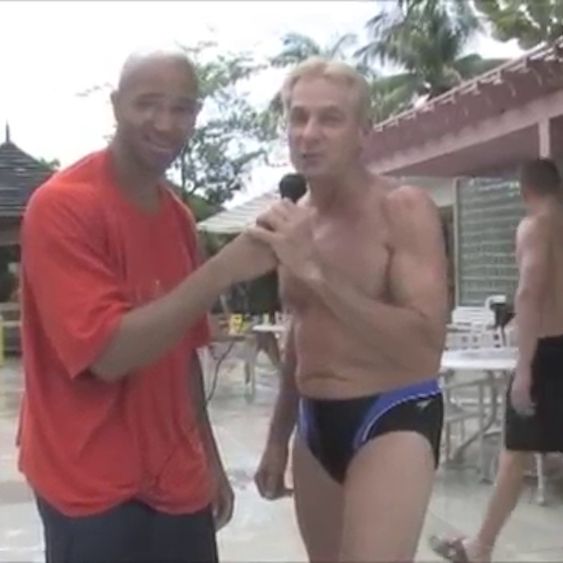 One of the great things about how my enormous and very smart brain works is that there is nothing in my life that can't be related to some type of viral video. It's reflexive. In New York City this week, it is very hot, so I'm still thinking about "pretty much everywhere, it's gonna be hot." But I already covered that last year, so here's another vid I'm thinking about 24/7 now.
Tomorrow, friends and families across the country will celebrate Independence Day. Usually, weather permitting, this is done with a vacation or a barbecue or some other outdoor celebration. Maybe you might go to a pool party. That will be nice. Anyway, I was thinking about pool parties and mentioned Hedo Rick to a friend and they had no idea what I was talking about. There was a time in this country when you could say the words "Hedo Rick" and everybody knew what you were talking about, but I guess that era is over. So I immediately pulled up the Hedo Rick video (which went viral way back in 2010) since I hadn't watched the clip in a while, and guess what — it's still extremely funny.
Here's Hedo Rick.
Seventy-eight perfect seconds. Seventy-eight very lewd, borderline NSFW seconds of an older gentleman popping his booty by the pool at the Jamaican sex resort Hedonism II.
What's my favorite part of the Hedo Rick video? It's tough to choose. Is it when Rick starts dancing? Is it when he gets down on his knees or when he crab-walks? Is it one or all of the times that he slips on the wet floor? Is it when Rick states that he's been to Hedonism II dozens of times since 1988 because of "the wild women" and "the rippin' and the tearin'"? Is it how surprised and ultimately supportive Terrance from blackbeachweek.com is of Rick's exploits? All of these aspects and more.
Hedo Rick has been to Hedonism II a lot. If you're interested, here's a very thorough post by him from 2001 with his tips and tricks for making the most of the resort. A photo posted on the TripAdvisor page for Hedonism II in 2017 reveals that Rick is still making the trip, and that he can apparently stand on his head.
A few years ago, BuzzFeed caught up with Hedo Rick to ask him about the famous video and his "rippin' and tearin'" catchphrase.
Rick says his catchphrase — "the rippin' and the tearin'" — came from joking with his buddies in building maintenance for an Arizona school district. "I'd say, 'Let's rip through the work orders and tear through them.' And when the video came out, everyone wanted to know where I came up with that phrase. Well, it was ripping through the resort, through the nude beach, the dance floor, the jacuzzi, and tearing into the ladies' coochies."
Anyway, I hope you have a nice holiday, and enjoy it as much as Hedo Rick loves tearin' it up poolside in his Speedo.
(Unfortunately, you need to click through to the video on YouTube now because Jukin Media, the worst company on earth, is retroactively trying to monetize it.)